The need for water on construction sites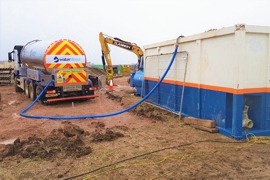 Whilst a water supply may be readily available in some locations, in others it may be inaccessible, unsuitable or insufficient, especially to meet increased demands of large or unusual construction and engineering projects.
Given that water plays such an important role in many onsite processes and applications, where can site managers turn to if there is limited or no supply on site?
Bringing in an alternative, temporary water supply will ensure you can deliver those key services on site, including the primary construction processes taking place.
Top uses of water for constructions sites:
Drinking water
Supplying onsite facilities
Concrete Batching
Grouting
Hydro-demolition
Drilling and piling
Landscaping and pond filling
Chlorination
Soakaway testing
Dust suppression
Choosing the right supplier will ensure your water supply is compliant to health and safety regs and that the deliveries are undertaken by fully trained technicians, through accredited and compliant processes.
With nationwide coverage and 24/7 service, Water Direct provides planned and emergency water supplies wherever and whenever they're needed; delivering millions of litres of water to construction projects every year.
The company operates the largest commercial fleet of dedicated drinking water tankers in the UK, offering support for onsite applications and large projects that require bulk deliveries.
Water Direct also offers a variety of solutions for drinking water and for supporting welfare facilities on site including static tanks and pumps, a 1,000-litre recyclable, one-use tank called the Aqube™ and via bottled water which is stored and distributed from 20 locations across the UK.
Working with customers in a variety of ways, the company provides a truly bespoke service, providing solutions that fulfil the needs of each construction project it supports.
Contact the Water Direct team to find out more: http://www.water-direct.co.uk/water-for-construction