The Heal-ing building: MoreySmith transforms iconic Heal's Building workspace with soothing natural features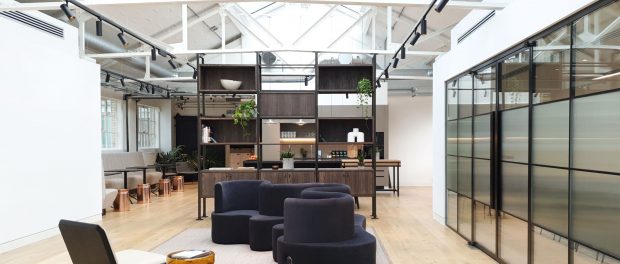 Workspace in the iconic Heal's Building has been transformed by MoreySmith, featuring a soothing natural design that has been meticulously planned to relax wary occupiers returning to the office for the first time in over a year
First built in 1840, the Grade II* listed building has been redesigned with the new normal and hybrid ways of working in mind, featuring space for co-working and agile desking
Key design features include an indoor greenhouse for meetings, a light filled front of house and a co-working lounge
RENOWNED design practice MoreySmith has transformed workspaces in the iconic Heal's Building on Tottenham Court Road for property investment firm Castleforge Partners.
The Grade II* listed building first opened in 1840 and features retail space to the front of the building and office space to the rear. The heritage project will now serve as Castleforge's official headquarters, with additional space for its flexible workspace provider, Clockwise, making room for over 60 employees.
Biophilic design and employee wellbeing has been prioritised throughout the design by bringing nature into the heart of the project. On the fourth floor, a cantilevered glass box suspended over the four-storey atrium has been transformed into a greenhouse that will serve as an indoor garden for break-out meetings.
MoreySmith redesigned the space using a blended working model, including agile desking, a co-working space and varied seating areas for employees to plug and play.
Matthew Reid, Head of Development and Asset Management at Castleforge, said: "We have been working with MoreySmith on a number of Clockwise projects across the UK and have continually been impressed by the practice's ability to repurpose old stock and navigate sensitive heritage building projects. When it came to our own HQ, we were confident in their ability to design the ideal space for our needs that embraces the post-pandemic world of work.
"The Heal's Building is an iconic structure in London and MoreySmith has managed to maintain its original interior features while still delivering a contemporary space for our evolving workforce. We are now looking forward to inviting our team back to work and to their new HQ."
Across the workplace, neutral colours have been used to create a calming and soothing environment using the sustainable materials including recycled leather, paper pulp, and cork furniture.
In the front of the building, a gallery wall and primary tea point will function as an open area to meet and greet visitors. Soft wall styling and natural timber features have been introduced to add further warmth, creating a front of house space that combines hospitality design features with a co-working lounge.
An entertainment space has also been installed for Castleforge to host events and a library area to create space for quiet and focused working.
The space underwent four months of internal renovations and has retained the existing features, structure and stairwells in the final design as key attributes of the building's history.
Linda Morey-Burrows, Founder and Principal Director of MoreySmith, said: "Having worked so closely with the Castleforge team over the last two years on five Clockwise projects across the UK, it has been a pleasure to create a unique space for their people to enjoy.
"We love to work with intriguing and creative spaces and we were particularly excited to transform this space in the iconic Heal's Building. To design the perfect workplace for the Castleforge and Clockwise team to come together in their new HQ, we have used our latest research to deliver a space fit for the new normal of blended working to suit post-pandemic routines.
"By embracing biophilic elements and utilising the open structure of the building, we have created a beautiful bright space flooded with natural light and greenery that will function as a relaxing space for Castleforge and Clockwise employees to work, socialise and entertain clients."