The Build Chain reaps rewards of kickstart scheme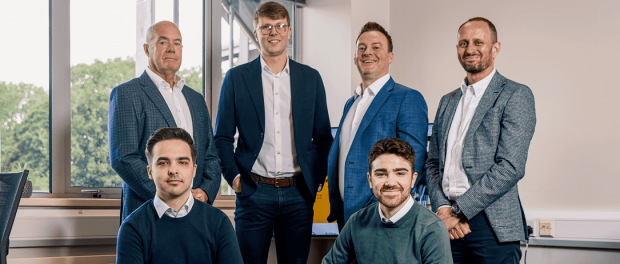 The Build Chain, a unique online platform that connects contractors nationally to merchants locally, has credited the government's Kickstart Scheme for helping it discover and offer permanent roles to two young people that have become an essential part of the company's launch plans.
The Build Chain is a subscription-based online platform that connects contractors nationally to merchants locally. Through the easy-to-use dashboard, contractors can submit enquiries, which are then filtered quickly and efficiently to the correct suppliers or merchants. Likewise, suppliers benefit from contractor and sub-contractor enquiries targeted to suit their business, with filters ensuring the enquiry is within the serviceable location of the supplier and fit for their stock offering.
Laurence Anthony joined the business in January this year and Joshua Pell started in November 2021. Both have now taken on full-time permanent positions – Laurence as digital sales and marketing executive, and Joshua as technical support executive. Recognising the skills gap facing the construction industry and the need to equip young people with hands-on training, The Build Chain has provided valuable skills and the chance to develop their professional expertise.
Both Laurence and Joshua participated in the Kickstart Scheme, which was designed to empower young people into employment and incentivised businesses to hire 16-24-year-olds on Universal Credit and at risk of long-term unemployment. The scheme meant that the government covered six months' salary for Laurence and Joshua and allowed the team to put more funds into growing the business.
Matthew McClune, co-founder and chief commercial officer at The Build Chain, said: "The Kickstart Scheme came at a great time for us as the business was in its early days and still finding its feet. At the time we were balancing on a tightrope between needing more support, but not having enough funds to hire for full-time positions.
"Laurence and Joshua more than filled the necessary gaps while the foundations of the business were being laid, and in doing so we've seen them develop their skillset and abilities.
"Once we gained more investment, we were able to increase their hours and salaries – rightly rewarding the loyalty, dedication, and enthusiasm they'd shown. It was an immensely gratifying experience for all of us as the work they had put in directly led to making hiring them as full-time employees possible. It was a well-deserved dividend of their hard work and really cemented them as part of the team."
Laurence Anthony, digital sales and marketing executive, works on new user onboarding and user journeys, said of his experience: "The Build Chain offered me a great opportunity to develop and hone my skills and I'm in no doubt that it was the right choice for me.
"In the past year I've seen first-hand what it takes to set up a successful business. The tasks I've been assigned have afforded me many opportunities to learn and gain confidence in areas I previously had no experience in. I feel reasons like this have given me a greater understanding of the bigger picture of how the moving parts of a business come together, and how to deliver against goals. I'm certain this insight will help me tremendously in my current and future career."
Joshua Pell, technical support executive, said: "Joining a small team like The Build Chain's meant I had a genuine feeling that the work I was doing had real impact. It also meant that whenever I needed help overcoming a challenge, there was always someone there to ask for help which is invaluable when you're starting a new role. I now have a much clearer idea of what a career in this industry might look like and I'm looking forward to seeing and doing more every day."
The Build Chain's team is further expanding with the additional appointment of Oliver Brennan as data analyst, specialising in monitoring and discovering consumer efficiency trends. Oliver's appointment is indicative of further growth for the young business as they go from strength to strength.
Neil Sheldon, co-founder and chief operating officer at The Build Chain, said: "Hiring Laurence and Joshua full-time demonstrates the importance of supporting and fostering emerging talent and is a success story of how businesses can guide young people entering the workforce.
"With the recent addition of Oliver to the team, we're looking forward to helping all three of them achieve their ambitions, helping develop their skills and experience further as they become more integral to The Build Chain."
The platform does not charge commission – meaning complete transparency and no surprise fees. This also results in no disruption to the transaction process for suppliers, or contractors. The platform's live chat function gives users instant responses to queries, speeding up the process and ensuring a compliant process throughout.
To learn more about The Build Chain visit its website here: www.thebuildchain.co.uk.