Tara Group partners with Barber Collective to open the conversation on mental health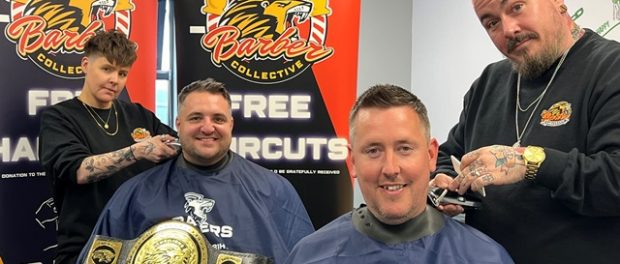 Chasetown-based company, Tara Group, has furthered its commitment to mental health support and awareness for its 300 strong workforce through a partnership with Lions Barber Collective ­— an organisation raising awareness for the prevention of suicide.
On Monday 15th of May, to mark Mental Health Awareness Week (15th – 21st), employees were invited to a pop-up barber shop at Tara Group's headquarters on Chasetown High Street for a free haircut and a safe space to talk about mental health.
Research by the Office for National Statistics shows that mental health concerns are extremely pressing for those within construction as workers in the industry are three times more likely to take their own life than workers in other fields.
This initiative comes at a time when the Tara Group is accelerating plans for companywide mental health support.
Earlier this year, to mark Blue Monday in January, Tara Group partnered with the Lighthouse Club — a charity providing financial and emotional support to the construction community.
Employees from Tara Group companies Cameron Homes, Keon Homes and Chasetown Civil Engineering were visited by the charity's 'Help Inside the Hard Hat' tour, as it delivered a positive message of support and guidance to eight of the group's active construction sites across the region.
As part of this continued partnership, the Lighthouse Club has been delivering a key development course to Tara Group Directors and Senior Managers over the last few weeks to equip them with the knowledge, skills, and tools to confidently navigate mental health challenges within the workplace and effectively manage and support employees.
Once completed, a further course will rollout to all employees as an introduction to looking after their mental health, maintaining wellbeing, and providing confidence to support others who may be experiencing a mental health issue.
Jo Mann, People Advisor at Tara Group, and chair of the mental health group for the Home Builders Federation (HBF) commented:
"We're delighted to be partnering with Lions Barber Collective this Mental Health Awareness Week. With a reported 42% of construction workers living with mental health problems, there has never been a more important time to offer a safe space to talk about mental health. Through our partnership with Lighthouse Club charity, we aim to continue to provide resources and training to support our team, highlight professional advice and create an open channel of communication."
For more news about the Tara Group, please visit: https://www.tara-group.co.uk/