Former soldier encourages fellow veterans to build career in construction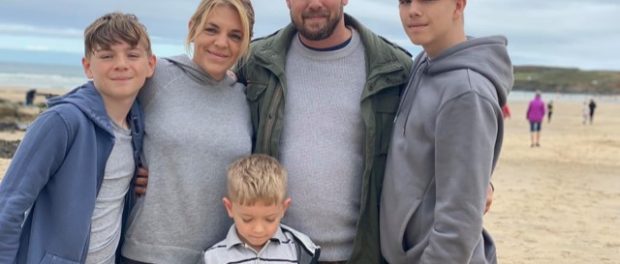 A former soldier who has built a career in construction is encouraging fellow veterans to consider joining the industry.
Andy Pearce, 42, has progressed from a site labourer to become regional build director for Vistry East Midlands after spending six years in the Army. He has since supported other ex-service personnel as they transition to civilian life and is now being honoured as a finalist in a national awards ceremony.
Andy has been shortlisted for 'Team Leader of the Year' in the Ex-Forces in Business Awards 2023. It is the world's largest celebration of the role former military personnel fulfil in their second careers.
The awards showcase the valued contribution of veterans in the workplace, and shine the spotlight on the employers who welcome them. The aim is to identify the role models who can inspire others to follow in their footsteps.
To tackle these challenges head on, the Ex-forces in Business Awards, established in 2017, promotes the vast breadth of achievements by veterans in second careers. The prestigious awards programme, which is the largest of its kind globally, shines a light on the veteran talent pool whilst also increasing visibility of business role models for service leavers. Giving them the confidence to pursue their own post-service operations.
Andy, who served with the Royal Engineers, said:
"I joined the army when I was 16, I didn't know what I wanted to do with my life and I had little confidence. But the army brought all of that out of me, I met some amazing people on my first day, and I am still good friends with many of them today, they are like an extended family to me.

"I was stationed in Bosnia for six months in 1998, when I was just 18. My experiences in the army taught me a lot. It gave me a sense of purpose and I felt as though I was part of something bigger.

"Transitioning to civilian life and into the construction industry was challenging and I had to face the inevitability of change.

"I had recently married and we wanted to start a family, so I was literally breaking with a life I had known since 16. My role in the Army had shaped me when I had no experience or knowledge. I was then taking on a job within the construction industry that had every chance of failing.

"For me, I think it helped that the sense of camaraderie within construction was familiar, so this gave me the support and comfort to do what I have always done – to push myself and learn as much as I could, which I am proud to say has led me here today."
Andy's role requires him to oversee 13 new homes locations for Vistry, which builds under the Bovis Homes, Linden Homes and Countryside Homes brands. He has three ex-service personnel in his team at present.
He said:
"I have had the chance to help others transition from the military to the construction industry. My advice always remains the same – be prepared for the change. Make sure that you are open with family as this is a break from a life you all know. You have to be committed to building a new life together, which takes time."
Andy was nominated for the Ex-Forces in Business award by his colleagues, led by Vistry East Midlands managing director Fraser Hopes.
Fraser said:
"Andy's career progression demonstrates the opportunities that are available to ex-service personnel in the construction industry, and specifically with Vistry.

"His leadership skills are exemplary. Andy's team benefit both from his life skills and his construction knowledge. They know he is always there to listen and support, and he has their absolute respect.

"Andy is always ready to offer advice and guidance. He has helped to nurture talent within the business and volunteers as a Mental Health First Aider. He has welcomed other ex-forces personnel to our fold, helping them to adapt to their new civilian careers.

"Everyone at Vistry East Midlands will be wishing Andy success in the awards. He would be a truly deserving winner."
Lt. Gen. Sir Andrew Gregory, CEO at SSAFA, the Armed Forces charity, said:
"As a former Chief of Defence People, I know just how important it is to have strong visibility of forces friendly employers and of veterans who have transitioned into meaningful second careers. These awards lead the way in amplifying that visibility, which makes us very proud to once again be the official charity partner of this important awards programme.

"Our warmest congratulations and sincere thanks go to all those who have been shortlisted for this year's British Ex-Forces in Business Awards. They set such a tremendous example for how military-gained skills and values can be successfully applied across all sectors."
Ben Rossi, founder of the British Ex-Forces in Business Awards, said:
"Six years ago we set out a vision for a grand showcase of veteran talent to promote to all UK employers the business case of hiring from the Armed Forces community, while also giving service leavers the confidence to dream bigger.

"Each year we are even more blown away than the last at the response to this programme. The extraordinary achievements displayed through the 800-plus nominations received for this year's British Ex-Forces in Business Awards should leave no doubt in anybody's mind that the veteran talent pool must never be overlooked."
The winners of the awards will be announced at a ceremony at Grosvenor House, in Park Lane, in London on Thursday 29 June.
For more information on careers with Vistry Group, see www.vistrycareers.co.uk