Supply chain firm bridging the gender gap in logistics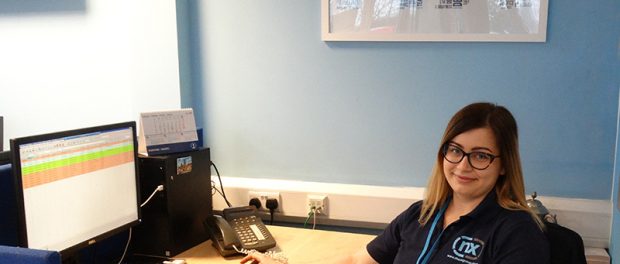 According to various sources, approximately a quarter of employees in the UK logistics sector are female: and, significantly, this figure has barely changed over recent years. Ahead of International Women's Day on 8th March, an ambitious operations administrator for the courier division of a rapidly growing Midlands transport firm is keen to demonstrate the suitability of a career in logistics for women as well as men.
Anna Cerek, 27, of Northampton, joined Northants-based supply chain solutions firm The NX Group in April 2018, after graduating with a Masters degree in transport, shipping and logistics.
Having moved to the UK from her native Poland six months earlier, Anna advanced swiftly from an administrate role within The NX Group's Westgate warehouse to her current position within NX Courier, which sees her responsible for the day-to-day running of the firm's van division.
"When I start at 7am, my first priority is to organise the day's agenda by liaising with our transport office, our customers and drivers to establish any issues and put a plan in place to resolve them," Anna said.
"After this, I load the vans, hand out paperwork to the drivers and make sure everything stays on track throughout the day. When I leave the site, I'm always on call via phone in case of any urgent requests."
Whilst acknowledging the demands of the role, Anna was keen to convey how well it suited her.
"As transport solutions will always be required, the sector stood out to me as a stable and enjoyably challenging one to go into," she explained. "My dad is also a former driver, so the industry felt familiar.
"My mum was surprised I chose to follow this career path, but she's also very supportive of my choices – the fact that I'm a woman in this industry isn't an issue."
Asked why she believes logistics remains a male-dominated sector in the UK and worldwide, Anna's reply was revealing:
"I don't feel that the gender imbalance present in the wider industry quite applies at The NX Group, as our warehouse pick and packing team is mostly male and our transport office mostly female. What's more, everyone is extremely friendly and we are all a team, across departments."
Anna is similarly practical in her approach to encouraging more women to join the sector. "It's a natural process, not only in logistics – if women enjoy their place of work, this will encourage more female staff to join both the workplace and the wider sector over time.
"My advice to girls and women considering a career in logistics is: go for it! If you're personally interested, don't be put off by myths about typically male roles or by male-dominated companies – just try it out."
Russell Thompson, Operations Controller at NX Courier, said:
"Anna is a dedicated and dependable member of staff who makes a valuable contribution to the courier division and is a real team player.
"We take great pride in the diversity and the personal qualities of our workforce, and we hope to continue to recruit quality male and female staff, from drivers to managers, both to the courier division and across our expanding business."
For more information about The NX Group, visit www.thenxgroup.com. You can also follow the company on LinkedIn and on Twitter via @thenxgroup.