Stirlin Construction completes £1.8m HQ for Duncan & Toplis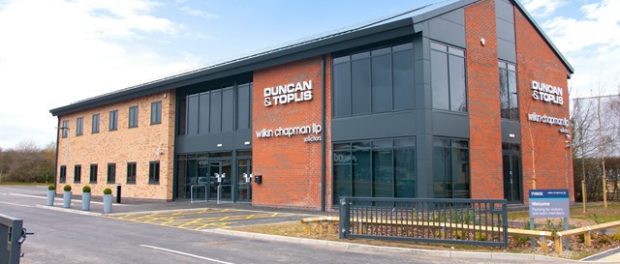 Lincoln-based Stirlin Construction, part of Stirlin Group, has completed a new £1.8million headquarters in Louth, Lincolnshire, for accounting and business adviser Duncan & Toplis.  Oxley House is located on the Fairfield Industrial Estate on Lincoln Way and brings 10,000 sq. ft. of premium office space to the town. 
The two-storey building includes open-plan office spaces, meeting rooms, kitchen facilities and a reception area. Sustainable elements of the project include EV charging points and a renewable energy solar system to the roof. 
The ground floor is now the home of the Louth team of Duncan & Toplis and the first floor is occupied by Wilkin Chapman Solicitors. 
After reaching capacity at its previous office, Lincolnshire, Nottinghamshire and Leicestershire-based Duncan & Toplis appointed Stirlin as principal contractor, to develop a contemporary headquarters with sustainability and accessibility at the forefront of its design. 
Howard Griffith, head of construction at Stirlin, said:
"Oxley House is a fantastic example of Stirlin Construction delivering the design, and build, of a fit-for-purpose new facility, on time and on budget – and we are thrilled with the result. 

 

"We worked closely with our long-standing client at Duncan & Toplis to design a premises that would provide a contemporary workspace to accommodate its growing team.  

"This project was a pleasure to deliver alongside local construction delivery partners, and we're really pleased to see the building complete and now being enjoyed by two flourishing businesses.  

"Thank you to all involved who worked hard to deliver this brilliant facility." 
Speaking upon completion of the project, Duncan & Toplis Managing Director, Adrian Reynolds said:
"The opening of our new premises in Louth is a landmark moment for Duncan & Toplis.  

"The new office is a major investment, underlining our dedication to the region, adding real, lasting value to our communities, by creating a future-fit working environment designed in collaboration with and for our team members.  

 

"I am absolutely delighted with how the office is looking and we can't wait to welcome colleagues and clients." 
Other partners on the project include Lincoln-based CRM advisors Hunt & Sykes, John Roberts Architects and structural engineer Steve Gilman Design, and Newark-based civil engineer William Saunders. 
To find out more about Stirlin Group, visit: www.stirlin.com.