Site Pod – all your welfare and health and safety needs delivered directly to your site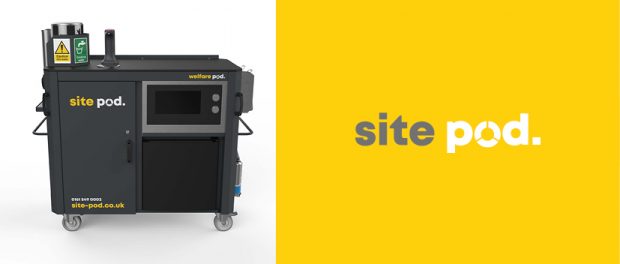 "Site Pod is here and our aim is to redefine welfare and health and safety standards across construction sites. Our innovative pods are the perfect way to cater for the needs of your workers easily – they look pretty stylish on your site too!"
We are proving to be quite a hit in the construction industry, with increasing requests for Site Pods to be delivered to sites across the country. Our pods provide a simple and effective solution to meeting the health and safety requirements on your site, as well as ensuring your workers are well-looked after and have access to essential amenities throughout the working day. It really is as simple as that.
Make the best first impression you'll ever make!
The Health and Safety Pod is perfectly placed at the entrance to your site. It will provide the perfect checking in desk for your workers and visitors, allowing you the opportunity to distribute necessary PPE, share your health and safety messages and ensure everyone is up-to-date with your site safety rules and regulations. The hand sanitisation unit will ensure workers are safe to enter the site and any valuables can be stored safely away on arrival in the secure storage unit. This will be the 'go-to' space for any worker who requires first-aid, should they be injured on site. The H&S pod partners with our Fire Pods to provide a temporary, wireless fire alarm system across your site. Safety should not be compromised – kit out your site with our Site Pods.
Are you considering the welfare of your workers?
We supply the Welfare Pod to contractors who consider the welfare of their workers to be a priority. It makes sense to suggest that a well-fed, well-rested and hydrated worker is going to be more productive on your site. Your workers will know you care when you provide them with hot water, food heating facilities, drinking water and refrigeration for their meals. Happy workers lead to a happy site. We will also provide seating with backs for extra comfort and a table so your workers can take a comfortable break, leading to increased productivity outside of break times. Show your workers you care and hire our Welfare Pod for your site.
Be sure to have a safe site in case of emergency!
Construction and refurb sites have the potential to be pretty dangerous, particularly if electrical equipment is being used regularly. If you are responsible for the safety of your site, our Fire Pods can provide you an innovative solution to fire safety. The portable fire pods are equipped with an all-fires extinguisher, fire safety signage and state of the art wireless fire alarm. Use up to 12 Fire Pods on one site for full coverage and should an alarm be triggered, each will sound together meaning a collective alert sound will ring throughout your site, notifying your team to get to safety. The Fire Pods are sleek, stylish and most importantly support a safe site.
Dirty work doesn't have to mean dirty workers!
Every site is required, under the HSE regulations, to have the facilities for workers to regularly wash their face, hands and arms. Our Wash Pod and Sani Pod will have your workers gleaming! Sites can be busy places, with multiple people passing through different areas throughout the day. The Sani Pod is one of our slimline products to be positioned in areas of high traffic so your workers can regularly keep up their hygiene standards. The Wash Pod gives the opportunity for a more thorough scrub – position alongside our Welfare Pod to encourage good hygiene habits before and after break times. We can't compromise cleanliness… even on a construction site!
So, if your site looks like this…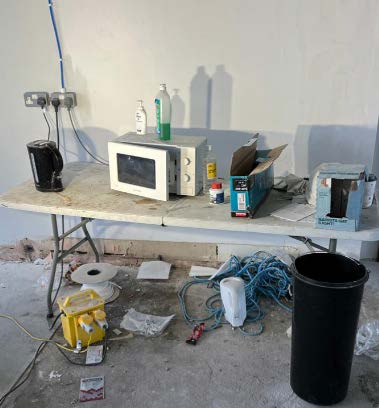 Let's do something about it….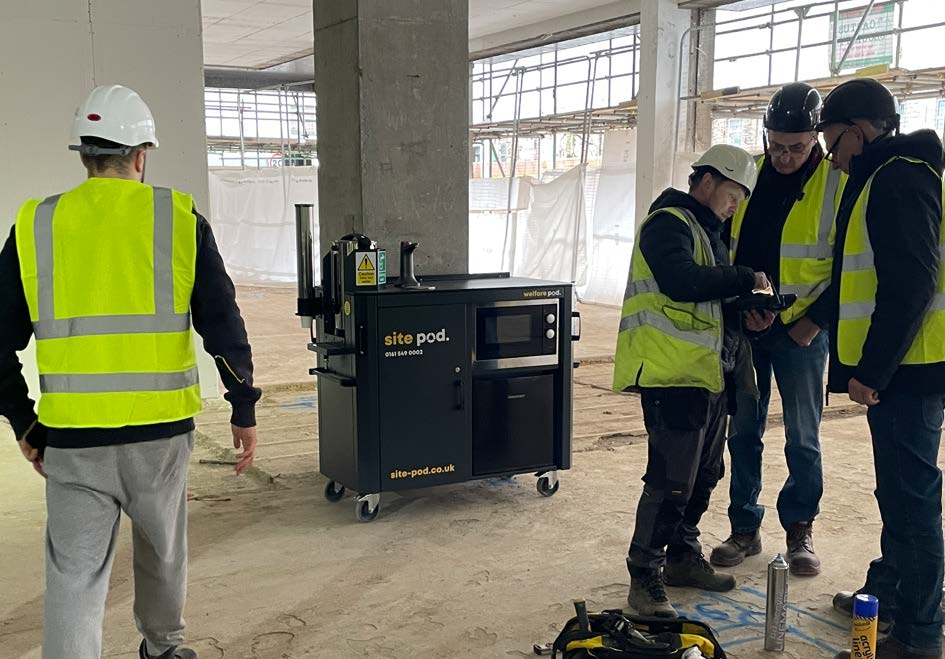 We're exhibiting at UKCW!
Site Pod will be at London's ExCel for Uk Construction Week so come along and see our pods in person. We'll be bringing a full suite of pods so you can see what all the hype is about for yourself. There'll be opportunities to hands-on experience of what our pods can offer and plenty of branded goodies for you to take away! We're offering all potential customers one free week's hire for orders taken at the show! Come along and see our pods – we look forward to seeing you at stand B134.

Find us on:
Website – www.site-pod.co.uk
Facebook – www.facebook.com/people/Site-Pod/100088317671696/
Instagram – www.instagram.com/site_pod/
Linked in – www.linkedin.com/company/site-pod/
Get in touch:
Telephone: 0161 5490002
Email: sales@site-pod.co.uk
Website: www.site-pod.co.uk