Site manager in Haslington wins award for fourth year in a row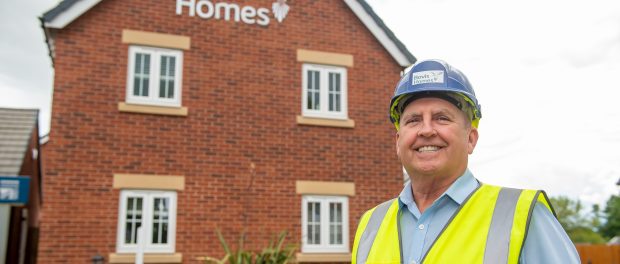 A site manager has won a prestigious award for his excellent work at the same development for the fourth year in row.
Albert Hassall, who oversees construction at Vistry's Hazelmere development, in Haslington, has won a Pride in the Job Quality Award from the National House Building Council (NHBC).
The award recognises the best site managers in the UK and Albert is one of 443 recipients this year, selected from 8,000 site managers from across the country. The winners will now be considered for the Seal of Excellence and Regional Awards in the autumn.
This is the fourth year in row that Albert has received the Pride in the Job Quality Award from the NHBC for his work at Hazelmere. In the previous three years he was also awarded the Seal of Excellence.
Vistry, which incorporates Bovis Homes, Linden Homes and Vistry Partnerships, is building 250 new homes under the Bovis Homes brand at Hazelmere. The site will consist of 175 homes for private sale and 75 affordable properties for local people through rent or shared ownership.
Albert, who lives in Shavington, Cheshire, began his career in the construction industry as a 16-year-old apprentice bricklayer on a site in Liverpool. He qualified as a bricklayer but felt the urge to make the move into management and was made an assistant manager by a housebuilding company in 2000.
"My dad and my brothers were bricklayers and I loved being a tradesman but something inside me told me that I would be good at running the entire site," he said. "Luckily, the firm that I was working for took a chance on me and tried me out as an assistant manager. I took to it like a duck to water and have never looked back."
Albert, who is 57, joined Bovis Homes in 2016 as a contracts manager but a year later was made site manager at Hazelmere.
"I have been at this site since it started and it is my baby," he said. "The secret to my success is simple – my team. I have managed by good luck and good management to surround myself with a fabulous group of people who share my vision of excellence at all times.
"My philosophy is that if something is worth doing it is worth doing well. I treat everybody at work as I would want to be treated and that pays dividends. I listen to them, I help them but I also ask them to hit the high standards that I demand.
"I absolutely love this industry and am getting a great deal of pleasure out of watching Hazelmere develop into a lovely new neighbourhood. At the end of the day, I never lose sight of the fact that we are in the privileged position of being able to make people's dreams come true by building them their dream home."
Freya Halsall, marketing manager for Vistry Mercia, said: "This latest award just confirms what we already knew at Vistry which is that Albert is an incredibly talented site manager. The judging standards are very rigorous and these awards are not handed out lightly.
"For Albert to win the Pride in the Job Quality Award for four years in row and to claim a hat-trick of coveted Seal of Excellence Awards is nothing short of remarkable. We feel exceptionally lucky at Vistry Mercia to have Albert on our team.
"He continues to be an inspiration not only to his team but also to everyone he comes in contact with. Albert's passion for the job shines through and we hope that his brilliance sees him win yet another Seal of Excellence this autumn."