Secretary of State for Education explores the future of construction with Mace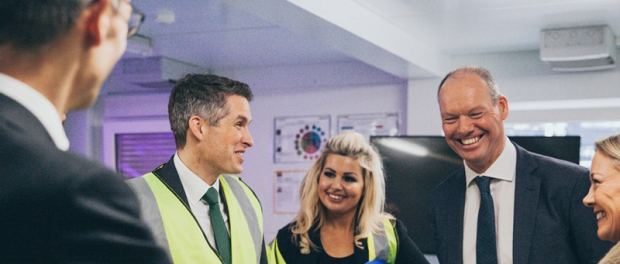 The Secretary of State for Education, Rt. Hon Gavin Williamson MP CBE, has launched this year's National Apprenticeship Week by meeting apprentices from Mace to find out more about the next generation of digital skills required by the construction sector.  
The visit was hosted at UCL East, the site of a new, state-of-the-arts UCL campus being built by Mace as part of East Bank on Queen Elizabeth Olympic Park. The Secretary of State met with apprentice Santini Holmes and trainee Michael Pearson, who demonstrated the use of a 'BIM cave'; a cutting-edge digital construction tool that helps to visualise design and construction data and models. 

He met with Mace Group Chief Executive Mark Reynolds, Skills Lead for the Construction Leadership Council, and discussed how the construction industry can ensure it builds the right pipeline of skills for the future. Dr Wendy Piatt, Senior Stakeholder Lead at UCL East, also met the Secretary of State and had a conversation with him about the importance of working closely with the local community.

Construction is a rapidly transforming industry and is engaging in an industry-wide drive to attract a diverse range of young people with the right digital skills to help drive further growth. Mace is investing in a wide range of new digital construction tools and processes; and its apprenticeship programme is designed to provide young people joining the industry with a diverse range of 'future proof' skills. 

National Apprenticeship Week is an annual week-long celebration of apprenticeships across England and is a time to recognise and applaud apprenticeship success stories across the country. Mace – a global consultancy and construction business – directly employs more than 100 apprentices and trainees across the UK in a range of different roles and supports hundreds more through its supply chain. 

UCL East will be part of East Bank, the capital's new powerhouse of culture, education, innovation and growth. The UCL East campus will be located alongside some of London's greatest cultural and creative institutions, including the Victoria and Albert Museum in collaboration with the Smithsonian Institution, UAL's London College of Fashion, BBC Music and Sadler's Wells.

Secretary of State for Education, Rt. Hon Gavin Williamson MP CBE, said: 
"It was brilliant to meet some of Mace's talented apprentices today and see first-hand the exciting work they are doing at the cutting edge of the construction sector. We are levelling up skills and opportunities so the next generation can unleash their full potential and are prepared for the jobs of the future, and apprenticeships are a key part of this."
Mark Reynolds, Mace's Group Chief Executive, said: 
"I am extremely proud of Mace's industry-leading apprenticeship programme; and it was fantastic to see our talented young people demonstrating their skills to the Secretary of State. We cannot deliver the next generation of construction technologies and processes if we do not have access to a diverse range of talents; which is why apprenticeships are vital to the future of the industry." 
Keith Butler, Assistant Director of UCL Estates, said:
"We are delighted to host the launch of National Apprenticeship Week on the site of what will be an exciting new campus where researchers, students, communities and industry will come together to create and share knowledge for the long-term benefit of people and planet. Aligning with Mace's and the Secretary of State's vision, what we are putting together here will address the global challenges set by the government Industrial Strategy to put the UK at the forefront of the industries of the future – improving people's lives and the country's productivity."