Reynaers launches sleek SL 38 Series: ultra-slim profiles with improved energy efficiency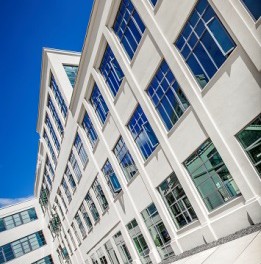 Reynaers' unique aluminium window and door system CS 38 has benefited from an upgrade – and the new Slim Line 38 series offers better performance than ever before.
SL 38 and SL 38-HI are now available and offer ultra slim profiles and improved market-leading energy efficiency.
The highly thermally-insulated Slim Line 38 has the look and feel of steel with the performance of aluminium. It combines elegant design, stability and ease of production and is the perfect solution for both new-build constructions and the replacement of steel-framed windows and doors. It respects the original design but offers a vast improvement on thermal insulation.
The minimalistic frame is reinforced by an invisible drainage system, avoiding the use of drainage caps on the exterior of windows and doors. SL 38 is available in three unique design variants – Classic, Cubic and Ferro – and its slim lines allow for an abundance of light.
SL 38 features a highly insulated three-chamber system with ultra-slim profiles for increased thermal characteristics. The solution is available in fixed, turn, and turn-tilt variations with Uw values of 1.4 W/m²K or greater depending on the configuration. The system is suitable for both double and triple glazing with a glass thickness of up to 55mm without losing the ultra-slim look.
For optimum end user comfort, the SL 38 product also offers excellent weather performance with air tightness of Class 4 (600Pa) and water tightness Class 9A (600Pa).
A special modification to the design also means the system is available with hidden hinges.
Marketing Manager at Reynaers Rebecca Cope said: "The SL 38 is a really versatile product. It is perfectly suited for the retention of existing structures, for example an older conservatory, allowing our customers to preserve a vintage look, or for renovation projects where steel frames have to be replaced. However, its high performance properties combined with a sleek new look make it a good choice for new builds too."
A video featuring the new system is available here: www.reynaers.co.uk.