Red Construction South West team expands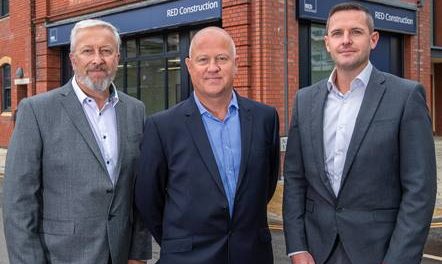 RED Construction South West has announced the appointment of two senior directors to establish the business in the region. Grant Millar has joined as Operations Director and James Devey as Commercial Director. They will work alongside Derek Quinn, who launched the business as Managing Director at the beginning of September.
With a combined 50 years' expertise delivering high-profile and sustainable construction solutions for the region, Grant and James join RED South West to deliver across a wide range of markets in line with regional requirements. These include commercial, residential, education and industrial buildings.
Grant has spent most of his career immersed in the South West construction market. As RED South West's Operations Director, he oversees the division's development and high-quality project delivery. James Devey's civil and structural design construction career has been based mainly in Bristol and the surrounding areas. He brings a wealth of regional market knowledge and complex project delivery experience to the business.
Coinciding with the appointment of Grant and James, RED South West has opened its Bristol office, taking a prime position in the 235,000 sq. ft Print Hall & Unity Street development, which forms part of the 2.4m sq. ft Bristol Temple Quarter Enterprise Zone. It is one of the UK's largest urban regeneration projects, comprising commercial, residential, leisure and retail use. In their previous roles, Derek, Grant and James worked together on the Construction Excellence Award-winning Print Hall & Unity Street project.
RED South West Managing Director, Derek Quinn, commented: "RED South West is going to be one of the major contractors in the region, one which excels in not only delivering to the highest quality but also providing outstanding customer service and communication. The strengthening of the team comes at an extremely pivotal time for the new division of RED Construction Group, and it is imperative we build a team with the expertise, reputation and passion for the industry. I have had the pleasure of working with Grant and James for many years and feel very proud to be paving the way in the South West with such a strong and committed team. Being based in an office, within an award-winning development we helped to create and in one of the most historically inventive cities in the UK, makes the beginning of RED South West even more auspicious."
Grant Millar, Operations Director, RED South West, added: "The RED Construction Group is an open, honest, and accessible company and has made me feel welcome and supported since I joined. With an abundance of ability and high performing individuals who are experienced and passionate about what they do, RED South West is all set and poised to expand in the region. It will be a contractor and partner that reflects the same ethos as the other companies in the wider group; being trustworthy, honest and good people to do business with."
James Devey, Commercial Director, RED South West, continued: "The South West is a fascinating region on many levels; the market is buoyant, and the appetite for change and new developments is strong. Over the next few years, we want to demonstrate our ability and positive approach to construction, becoming the lead contractor of choice for the area."
Both appointments follow the recent announcement that RED Construction Group has created a new group structure and two distinct operating companies to facilitate the next stage of the company's growth, comprising of RED Construction Group, RED Construction London, and the newly formed RED Construction South West.