Climb the construction ladder and save lives: Astutis announce updated NEBOSH Management in Construction Certificate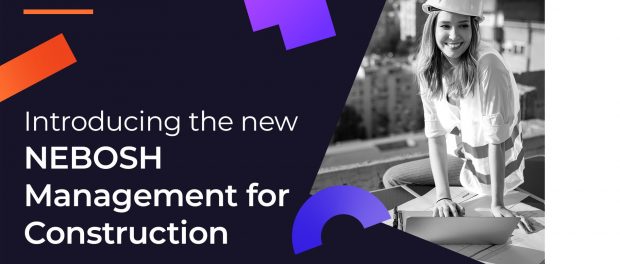 We, at Astutis, are delighted to announce a new, updated online incarnation of the NEBOSH Health and Safety Management for Construction course.
The course is now on pre-sale and will officially launch on 01 November 2021. Learners can secure the course for thepre-sale priceof £520+VAT if purchased before 01 November 2021. (including exam fees).
Please note: This announcement discusses the online format of the new NEBOSH Health and Safety Management for Construction. The course is also available in Virtual, Classroom and In-Company formats.
What's new?
Most notably,48 hours of study time have been cut to minimise information overload. In the updated online course, learners will have approximately 116 hours of study, when previously they would have had 164. The reduction in study time does not detract from the quality or standard of the training. If anything, it amplifies it. The delivery of the training will be more concentrated, focusing on what matters. The course remains a level-3 qualification.
In the past, it was expected that learners would have passed the NEBOSH General Certificate, which no longer applies to the new online course. The course does not require any previous experience, making the training more accessible than ever before.
One of the most significant changes is around how the course is assessed. Before learners need to revise for several exams, this course is assessed through one NC1 Open Book Examination (OBE). NEBOSH estimates the assessment should take about 8 hours. Learners will have 48 hours to complete and submit their answers through the NEBOSH online assessment portal.

For more analysis on the new changes, check out our blog Introducing the new NEBOSH Management in Construction Certificate.
What's covered in the course?
As highlighted above, the updated syllabus features one unit (NC1). NC1 is made up of 13 individual elements covering an extensive and comprehensive understanding of essential topics.
Element 1: The Foundations of Construction Health and Safety
Element 2: Improving Health and Safety Culture and Assessing Risk
Element 3: Managing Change and Procedures
Element 4: Excavation
Element 5: Demolition
Element 6: Mobile Plant and Vehicles
Element 7: Working at Height
Element 8: Musculoskeletal Health and Load Handling
Element 9: Work Equipment
Element 10: Electricity
Element 11: Fire
Element 12: Chemical and Biological Agents
Element 13: Physical and Psychological Health

Learners will develop specialist construction risk assessment skills to improve standards in changing workplaces and sites whilst positively influencing the health and safety culture one job at a time.
View the course now for more information on the new syllabus and in-depth coverage of the latest changes! Remember the pre-sale price of £520+VAT will extinguish after 01 November 2021.