Professional Flood Damage Cleaning on Building Projects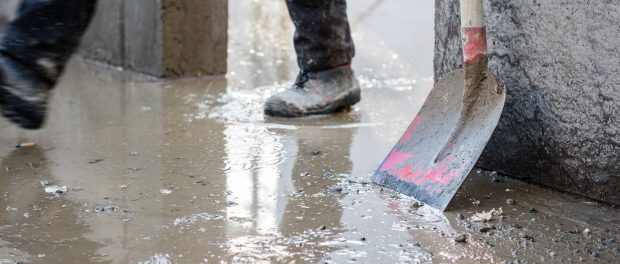 ICE Cleaning pride themselves on their effective flood damage cleaning services. They offer bespoke and rapid solutions, operating 24/7, 365 days a year to help their clients.
Their team of experts work hard to return your site to a safe environment, never leaving the job until you're satisfied with the standard of work.
Here they provide some useful information on how professional water damage cleaning can help keep you on track on building projects.
Protecting the health of workers
Often when you suffer from flood damage, the water can be contaminated with matter such as dirt and sewage.
As an employer, it is paramount to protect the health of workers. The presence of polluted water must therefore be dealt with promptly.
Investing in the help of professionals is a safe route to take, as they will have the expertise to deal with contaminated water and remove it from the site properly.
Once this is treated, your workers will be able to work safely once more. If the work is completed rapidly, you can return to working on the project quicker.
Services all in one place
With the help of a professional cleaning company, services can be tailored to your individual needs. Here at ICE Cleaning we can treat all kinds of water damage for our customers, saving you the need to find several different contractors.
For example, we perform:
Flood damage cleaning
Water extraction
Flooded basement clean-up
Water damage restoration
Having all the services in one place makes the process smoother and quicker, giving you more time to continue managing your project. It also means less disruption to working hours, as you don't need to organise times for various companies to attend.
Emergency flood restoration services
Handling flood damage swiftly on site can limit the harm caused to the building site.
Although flooding is frequently an unforeseeable event, acting fast in the instance you experience it can limit damage to the site and mean you don't need to spend money on more significant repairs.
We provide emergency flood services, where our technicians can attend the site within the hour to begin the clean-up process. We will work to control the water damage on the premises in a timely manner, aiming to get you back to work in good time.
Technology
Water damage clean-up can be a difficult task, and may require the use of specialist equipment. Cleaning experts will be equipped with industry-grade tools and solutions to properly treat the issue.
Though it might be tempting to deal with this yourself, it is a job that's best left to the professionals. Their services will be quicker at dealing with the problem than those not trained in the area, and will help get your site ready for work again.
Prevention of mould
Mould may result from flood damage, slowing down work even more. There is even a possibility of health implications for those who come into contact with it.
Calling in the experts as soon as you experience flooding is the best way to prevent mould from occurring, as it can develop in as little as 24-48 hours.
"It will also save you money on treating mould when it could have been avoided."
Check out ICE Cleaning's website to find out more about their flood damage cleaning services.