Primary school gains 86 sq m of additional teaching space in just eight weeks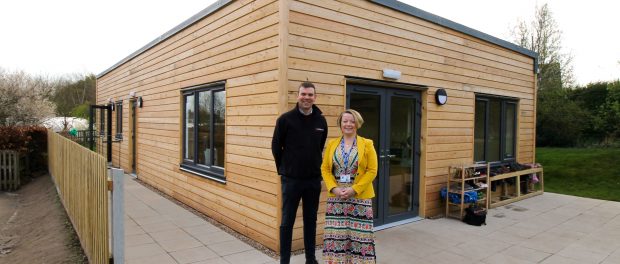 A Shropshire primary school has gained an additional 86 sq m of teaching space following construction, by SJ Roberts Construction Ltd, of a new building that serves as an exemplar of cost and time efficient construction in challenging school environments.
Short Wood Primary School in Wellington, Telford had enjoyed continued growth leading to a lack of flexible spaces equally suitable for teaching, breakout sessions and planning away from the classroom.  In a bid to address this, the school had repurposed the existing library but was conscious that this wasn't a long-term solution, and more space was necessary.  However, its existing architecture limited the options for an extension to the main building.
Mike Sambrook, MD at SJ Roberts Construction, comments:
"Short Wood Primary School holds Green Flag Eco status, meaning that any additional building needed to not only compliment the local landscape, but prove its energy efficiency and deliver utmost value for money.

"These are challenges faced by many schools and whilst the team at Short Wood had considered a variety of extension and modular options, once we reviewed their needs it became apparent that a traditional timber frame open panel system clad in timber with a flat roof would provide them with the best solution.  The added benefit being that it fell under Permitted Development Rights, meaning no planning permission was required."
The 86 sq m building was delivered in just eight weeks from site preparation to completion, and the use of heavy machinery was limited to school holidays meaning the site could remain operational throughout the build.
As well as its speed of construction, the new school building boasts a "B" energy efficiency rating and is heated by a modern Air Source Heat Pump.  Significantly for the education sector where budgets are under continual scrutiny, the entire build cost under £175,000.
Commenting on the new teaching space, Head Teacher Gail Butele, is clear on the benefits that the build approach brought to the school:
"Having been aware for a while that we needed to expand, being introduced to the team at SJ Roberts and their proposed solution, proved a real turning point.  They listened to our needs, adapted some of the designs we'd already been working on and provided a solution that ticked all the boxes.

"Being an operational school environment brings with it a host of considerations in terms of disruption, on-site safety and of course, cost!  The team at SJ Roberts, however, couldn't have been more aware of all these.  From the start, they shared clear plans and schedules; worked seamlessly with our site manager to ensure all school considerations were met safely; and they took the time to engage with pupils as their imaginations were sparked by the work being carried out.

"The Lodge – as we now affectionately refer to the new building – has blended seamlessly with our wider environment, and we're all still amazed at not only how quickly it was constructed, but just how little disruption there was."
 Speaking of the benefits that this approach brings to schools, Mike Sambrook concludes:
"Short Wood Primary school is not alone in facing the combined challenges of additional classroom space, minimal disruption, and limited budgets.  However, as this project has proven, a stylish, practical and energy efficient solution can be delivered quickly and cost effectively and we'd welcome the opportunity to discuss similar needs with schools elsewhere."