Preparing For Working Outdoors In Winter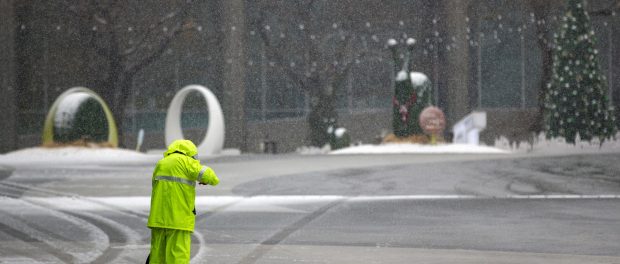 With each season comes a new set of challenges for outdoor workers. Employers need to think about the way their staff work and what uniform they will be wearing. Winter conditions bring a unique set of challenges; high wind, rain, and even snow. Preparation and planning are crucial to ensure the workforce is kept safe. Employers must provide adequate uniforms, alongside ensuring the conditions are kept as safe as possible.
Winter Uniform Needs To Be Easily Visible
Daylight is limited during the winter months, meaning more work is completed in dark conditions. Employers must think about how their workers will be visible for any workforce starting early in the day or
finishing late. Hi-vis clothing is a great option- it reflects any nearby light, improving the visibility of your employees. This is especially important for construction workers in public areas and anyone working near roads. Hi-vis clothing is also beneficial in extreme weather conditions- including in heavy fog or rain.
Ensuring that your employees are visible when working in the dark means, you can avoid accidents occurring. Your employees will also be able to look out for colleagues, working efficiently and safely no matter the conditions.
Workers Need To Be Prepared For Rain & Snow
If there is a possibility your staff will get wet during work hours, then you should consider offering wet suits. Workers are more productive if they're free of restriction, which is why you should always avoid bulky uniforms. Wearing lots of layers will not be effective if the outer layer is not waterproof; clothing becomes heavy and damp, resulting in a dropping body temperature. Sticking to a couple of tight, thermal layers will have a much better effect than going for heavy coats.
Just because a worker has lots of layers does not mean they are protected from the winter conditions. Rain and snow can easily soak through multiple layers of clothing, reducing body temperature drastically. In the worst-case scenario, this could lead to hypothermia. At the very least, your workers won't be able to focus correctly or perform as expected.
You Can't forget footwear
Workwear shoes should always have grippy soles; this could be the difference between a small slip and a severe fall in bad weather conditions! We don't have control over the weather, but you can control how protected your staff are from the conditions. Footwear can not be forgotten when purchasing uniforms for your employees. Work footwear should also have support; this keeps your employee's feet safe. Steel-toe caps are also crucial in certain working conditions; they prevent injury in workers who often carry heavy items.
Protective footwear is not just for the winter months; it's suitable all year round. Grippy soles keep workers safe from spillages that could be easily missed and prevents falls on slippy surfaces. Ensuring your workers always have sensible, appropriate footwear will reduce risk to your employees; and give you peace of mind as an employer.
Always Invest In High-Quality Workwear
Cheap, poorly made workwear will not provide the same protection as high-quality workwear.
Visit the Cobra Workwear website here and take a look at what they offer! From wet suits to fleece's and beanies to sweatshirts- all of their items are also available with custom embroidery.
So, if you are starting to prepare your employees for working outdoors in winter, get in touch with Cobra Workwear today.