Poole Hospital celebrates topping out milestone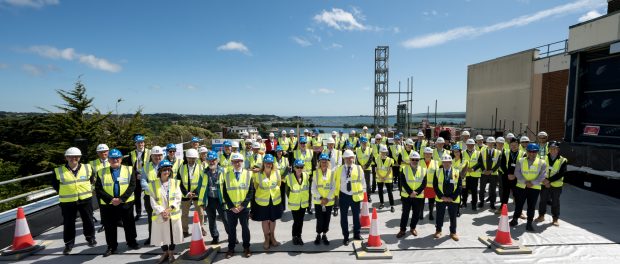 Building and civil engineering company, Sir Robert McAlpine, has today announced the construction of the new theatre building at Poole Hospital reached a significant milestone with the celebration of a traditional 'topping out' ceremony.
Edward Argar MP, Minister of State for Health, Angus Campbell, HM Lord Lieutenant of Dorset were present along with University Hospitals Dorset staff and local and national stakeholders. The event was hosted by Integrated Health Projects (IHP), an alliance between VINCI Construction UK and Sir Robert McAlpine, including Hector McAlpine, IHP Board Member, Ian Cheung, Managing Director South at Sir Robert McAlpine, and Jason Griffiths, VINCI's Regional Director for London and South.
A bagpiper led the guests to the top level of the building where a pouring of stone took place to ceremonially complete the roof and an evergreen bough was nailed to the structure – a tradition which dates back to Roman times to protect buildings from evil spirits. This was followed by the symbolic exchange of a tankard "for a job well done."
The new theatre building is an extension to the existing hospital building comprising of a brand-new purpose-built five storey tower. It incorporates a four-table 'barn' theatre where the main surgical area is large and open-plan, with each patient treated in a dedicated space with an ultra-clean air canopy over each station.
Future consolidation of planned care on the Poole Hospital site will provide rapid treatment of elective operations without the disruption or delay that can occur from high volumes of emergency cases having to take precedence. Thousands of patients each year will benefit from shorter waiting times as a result of the greater efficiencies associated with establishing a planned care hospital.
Commenting on the news, Ian Cheung, Managing Director South at Sir Robert McAlpine, said:
"This topping out ceremony is an opportunity to celebrate the exemplar collaboration and technical excellence demonstrated by the project team and hospital staff. IHP is proud to work with UHD on this state-of-the-art healthcare facility and we look forward to delivering the new theatre building at Poole Hospital, which will greatly benefit patients across the region."
Richard Renaut, UHD's Chief Strategy and Transformation Officer, said:
"Speaking with many patients I know investing in Poole Hospital is very important. Having modern buildings, and extensive refurbishments, means better care. Despite the many challenges the NHS faces today, we celebrate today the long-term investment that will help transform health services in Dorset."
Jason Griffiths, VINCI's Regional Director for London and South, said:
"We are delighted to be delivering this flagship project in Poole, in partnership with the University Hospitals Dorset NHS Trust. The reason we can celebrate success today is due to a great team effort, great innovation and pursuit of a common goal to deliver great health facilities for the people of Dorset"
Edward Argar MP, Minister of State for Health, added:
"It was a real pleasure to take part in the topping out ceremony, marking a major milestone in the construction of Poole Hospital's new surgical theatre building, which is backed by nearly £200 million of government investment. This upgrade will make a significant difference in helping patients in Dorset get the care they need as quickly as possible, with eight brand new operating theatres to shorten waiting times and boost capacity.
"We continue to work closely with the NHS to tackle the Covid backlog, with a record £39 billion invested into health and care services over the next three years to deliver the biggest catch-up programme in NHS history."
By 2023 patients requiring trauma surgery will start to benefit from these facilities, along with more patients receiving day case treatments in better facilities. By 2025 Poole Hospital will be transforming into the major planned care hospital for Dorset, able to offer high quality elective care, protected from emergency pressures.