PDC Construction completes first UK Hard Rock hotel external refurbishment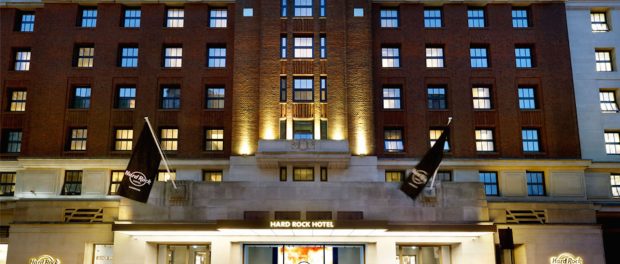 PDC Construction recently completed an extensive external refurbishment, including installation of 650 windows, external cleaning, brick and stonework restoration at the UK's first Hard Rock Hotel
"The PDC works has provided the best possible backdrop for the new Hard Rock Hotel."
Recently, the eight-story Cumberland Hotel at the corner of Oxford Street and Park Lane near Marble Arch in central London was transformed and re-launched as the UK's first Hard Rock Hotel. PDC Construction Services Ltd undertook a full window replacement and exterior clean and stonework restoration of the imposing art deco building, to enable the best external image for the re-launch. The transformation of the hotel's exterior supports the design and memorabilia collection of the internal design, which has been curated to reflect key aspects of London's musical heritage. Its 900 rooms have hosted stars including Buddy Holly, Jimi Hendrix, Diana Ross and Stevie Wonder.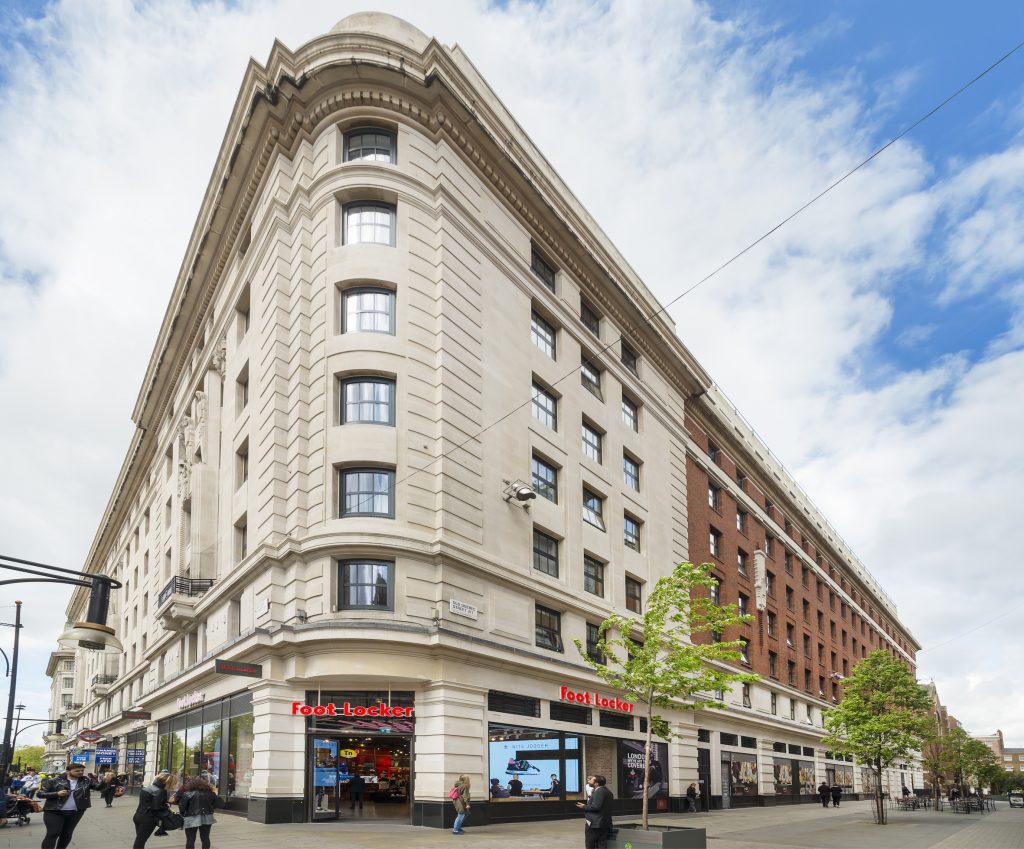 The hotel remained open to guests for the duration of the contract period. With approx. 900 rooms, there were significant logistic challenges, being located on the busy Oxford Street with high density commercial and retail use, and an entrance to Marble Arch tube station as part of the building foundation. Continuous high traffic flow and pedestrian footfall had to be considered when the significant gantry, scaffold and mast climber arrangements had to be coordinated.
PDC had to make suitable assessments of any requirements to liaise with regulators, authorities, building landlord, hotel operator and other main contractors on site, while being keenly aware of any implications on the regular management of the hotel, staying guests and the huge flow of people in this buzzing location. Throughout the project, the rights of way, both pedestrian and vehicular along adjoining roads and pavements, was kept clear for use of the public and surrounding building occupants at all times.
Live environment measures
One of the most challenging parts of the project was working in a live environment, alongside other main contractors. As a company, PDC is keenly aware how management procedures, including health and safety, quality and communication relate to the live environment and the mitigation measures required.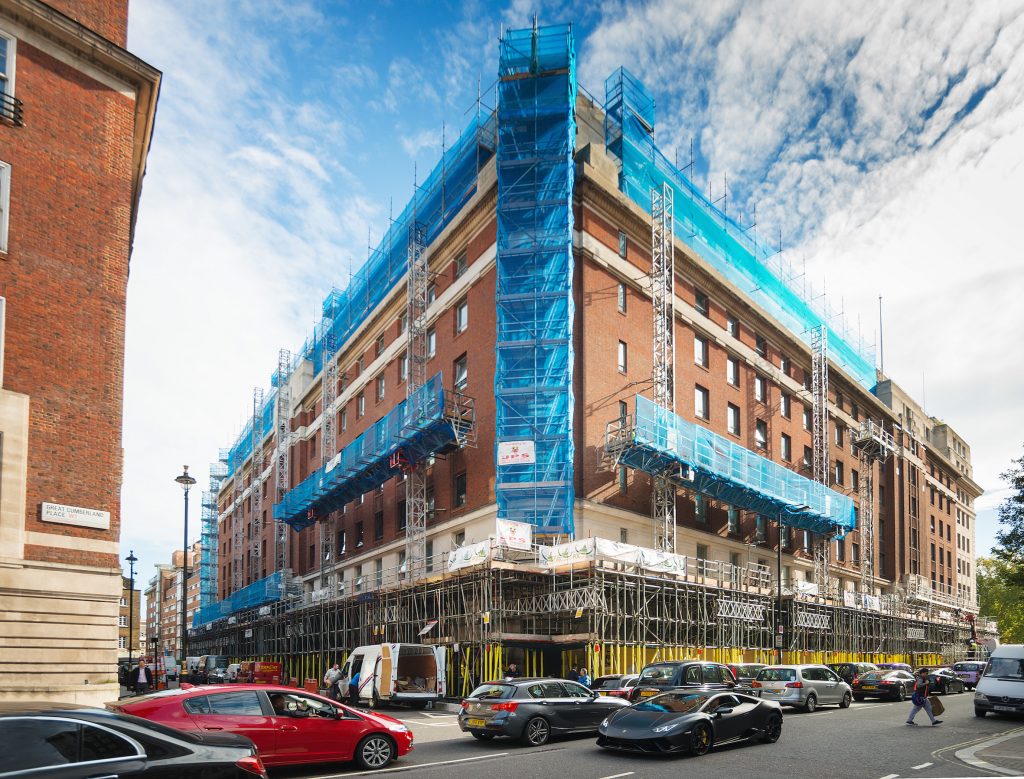 Contracts Manager, Wayne Roberts comments, "PDC did not have the benefit of having a completely segregated site from the hotel guests. We had the logistical issues of distributing materials and removing waste from the rooms along corridors with guests within the vicinity." The rolling programme of guest bookings was paramount, as under no exceptions could the rooms be returned late, as guests were booked in. "Liaison directly with the chief engineer and back of house manager for programming was crucial. We would also have operatives undertaking brick, stone repairs and cleaning externally and guests within the locations would require notification from the hotel. The key to the project was communication so all stakeholders were aware of all activities," explains Roberts.
Several elevations of the project had the same access arrangements, which was a challenge as all areas were live, with not only the guests but also the general public. The Oxford Street scaffolding in particular presented a challenge, due to load restrictions over Marble Arch tube station. This was overcome by changing the gantry and mast climbers for a lightweight scaffolding system.
Collaboration, value and delivery
The completion on time and on budget of this extensive renovation is a key example of PDC Construction's commitment to its commercial clients, created from the core strengths of its directors in the fields of construction and commercial fabric maintenance. PDC specialises in project work, commercial refurbishment, hospitality, education and heritage as well as facilities management. The project portfolio includes a wide range of projects, from offices and public sector buildings to hotels, theatres and schools.
Owners and directors Robert Callander and Harry Wildman's joint personal efforts ensure that the company provides support, strong management and craftsmanship to its clients. It is these practices that have resulted in Considerate Constructor Awards in 2017 and 2019, and earned the company its ISO9001/ISO14001, ConstructionLine, SafeContractor and Considerate Constructors accreditations.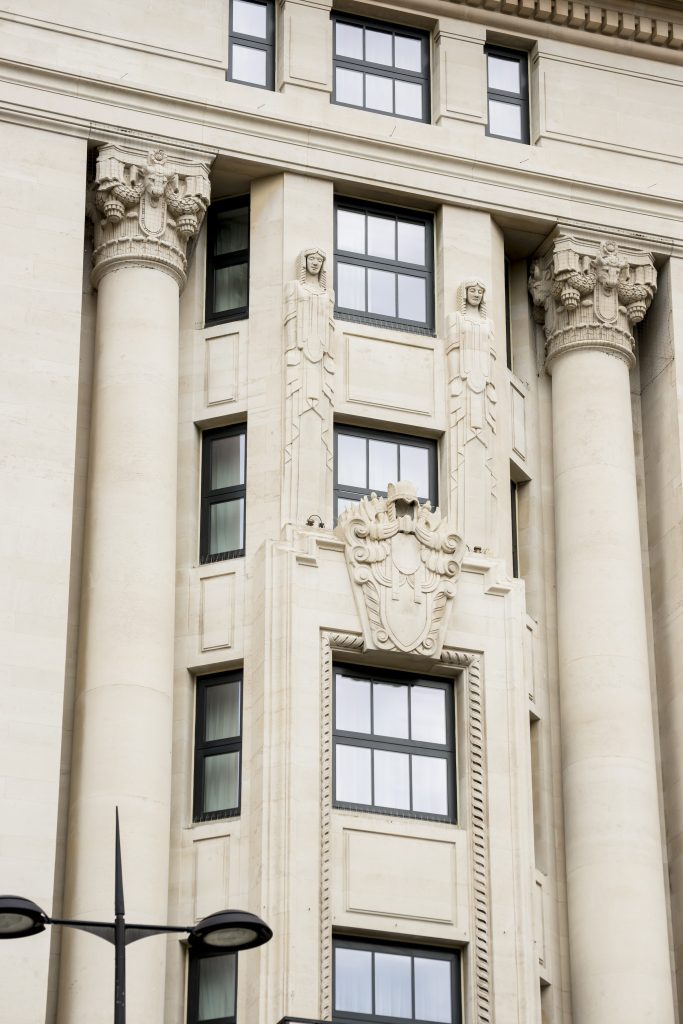 "People, delivery and relationships are at the heart of our business – based upon customer satisfaction, collaboration, value for money and reliable delivery. We believe in customer service and in creating lasting, trusting relationships," says executive director Harry Wildman. Effective refurbishments, combining resources and activities, are vital to the success of projects. The team is highly experienced in working in occupied buildings and within restricted time frames, allowing clients to remain operational whilst works are carried out. Managing director Robert Callander explains, "Our experience contributes to the delivery of strategic and operational objectives and provides a safe and efficient working environment, which is essential to the performance of our clients."
Sustainable environmental practices
PDC Construction recognises that concern for the environment should be an integral and fundamental part of the business. Callander confirms, "We are aware of the impact of our day-to-day operations on the environment; our objective is to balance the need to achieve our business aims with an effort towards sustainable environmental improvement, which can be measured and monitored on a regular basis. We implement this through our ISO14001 Environmental Management System."
Company management have specific responsibility for policy development, coordination and evaluation of performance. Environmental and sustainable aspects of processes and activities are effectively managed in order to protect the health and safety of employees, customers and the public whilst contributing to the future well-being of the environment.
A key aspect of the Hard Rock Hotel works was a dedication to quality of delivery. PDC's ISO9001 management system spans all phases of the project life cycle, from initial assessment and analysis, accurate pricing structure, in-depth monitoring of achievement of the project requirements to high quality finishes. Meeting these objectives required a clear understanding of the qualitative and quantitative principles of management, costings, programme and delivery of the project.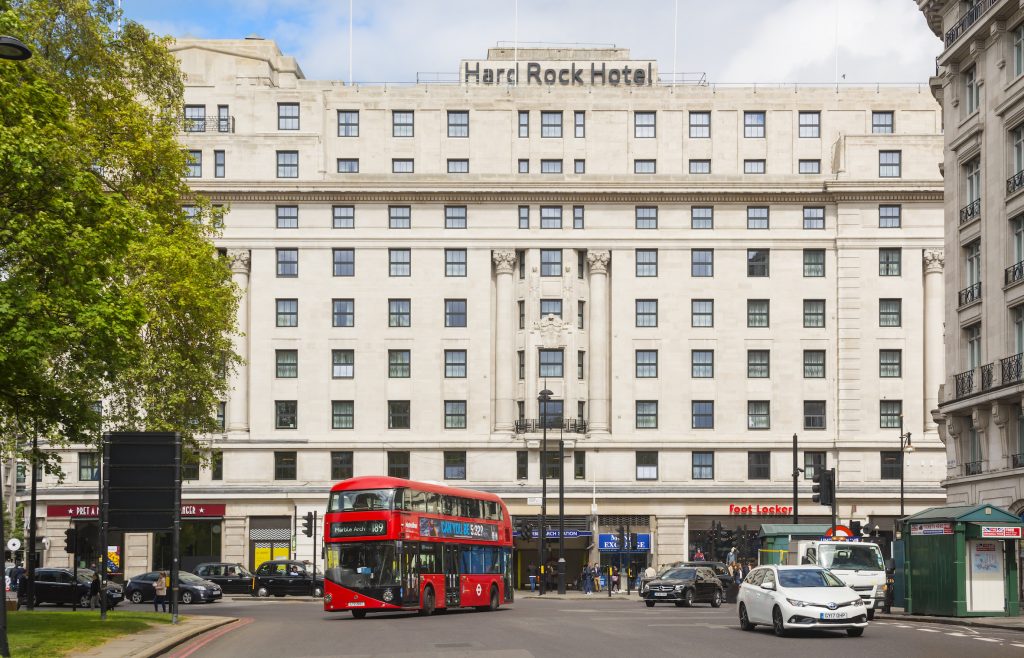 The Hard Rock Hotel will still be operated by GLH, London's largest hotel owner-operator, which also owns Thistle, Guoman and Amba hotels. PDC is now involved in other extensive works across the GLH Group's other properties, including events rooms, conversions and other internal refurbishments. Gareth Dearing, GLH Group Property Projects Manager, comments, "The PDC team has been professional, accommodating and responsive, working in strong collaboration with the project team and other contractors." The works that PDC undertook, external facade clean, brick and stone repairs and window replacement of 650 windows transformed the appearance of the building, and has provided the best possible backdrop for the new Hard Rock Hotel.