NEW CraneSAFE™ and CraneCAM™ for safe and secure tower crane protection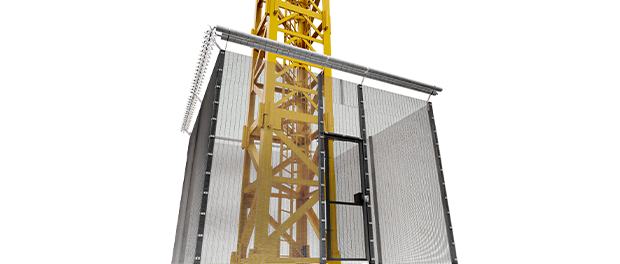 Panthera Group is delighted to introduce its newest innovation, CraneSAFE™; a high security fence system designed primarily for the protection of tower cranes. It can also be used to protect hoists, Haki staircases and other vulnerable high risk access points.
The first system of its kind, it is purpose-designed to be independently supported from the tower crane by creating a gap between the fence line and the crane and offers optimal security while maintaining the independence of the crane itself. Its closed-loop, modular design improves sustainability and offers commercial, safety and operational benefits when compared to traditional plywood and standard mesh fence enclosures and, depending on site requirements, it can be specified as a complete kit or tailored to suit.
The hot dipped galvanised system is quick to install and quick and easy to assemble on site.  It consists of multi-functioning 3mm steel posts that bolt down onto the crane base slab onto which high security galvanised panels are secured using 8mm security clips. A high security gate comes with wired restrainers tested to 250kg, overhead gas closures and a choice of external grade hardware as standard. Standard panels are 3m height, with the option of a higher 3.6m panel for additional security if required. A range of security toppings is available to further enhance protection and reduce risk of access.

Strong, durable and safe, the system offers multiple benefits:
One Day Installation – including all kit options and enhancements
Modular & Reusable Design – quick to assemble, adapt and dismantle reducing both current and future labour and material costs
Temporary Works compliant – designed to meet all three UK wind zones
Zero-to-Landfill – 100% reusable system
Health & Safety – mesh panels allow full visibility at the base of the crane and assembly process improves manual handling
Security – anti-tamper fixings, cranked security toppings and anti-climb 358 mesh
Zero Maintenance – hot dip galvanised with no on-going maintenance or downtime
Procurement Options – purchase with buy back option or contract hire.
As well as the new CraneSAFE™, the team at Panthera Group has designed CraneCAM™ to work alongside the tower crane. The alarm system offers HD quality images day and night by using an Artificial Intelligence (AI) technology. When an activation is confirmed, the system provides a local visual and audible warning. A site contact can be alerted immediately via mobile or via Panthera Group's NSI Gold monitoring station.  CraneCAM™ is available for hire only.
For more information, please request a brochure via www.pantheragroup.com/contact