Introducing Cavity Tray Cleaner: a revolutionary tool for the building industry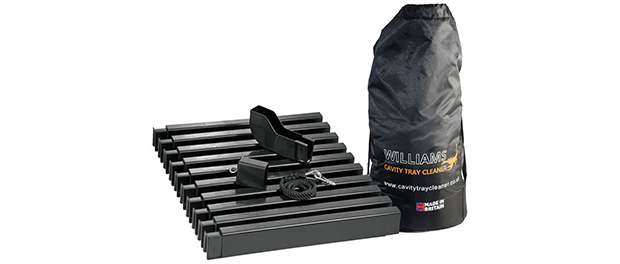 The Cavity Tray Cleaner is an innovative and time-saving tool designed specifically for bricklayers and builders in the United Kingdom. Developed by a professional bricklayer, this tool collects excess mortar that falls onto the cavity tray, saving both time and money.
With its simple three-part assembly, the Cavity Tray Cleaner can be easily clipped together and disassembled within minutes. Its efficiency is unparalleled, capable of effortlessly cleaning a 10m long run. For larger projects, sets of up to 40 meters are available, making it ideal for full house constructions.
"The traditional method of cleaning cavity trays is outdated," says Ashley Williams, founder of the Cavity Tray Cleaner. "It's a laborious and time-consuming task that costs bricklayers valuable hours and money. After witnessing this problem firsthand, I'm proud to introduce a product that will revolutionize the industry. The Cavity Tray Cleaner is not a luxury but a necessity for professionals who value efficiency, time, and cost savings."
The Cavity Tray Cleaner features a train-like design, connecting in a series. Made in the UK using recycled plastic, these eco-friendly trays are reusable. The scorpion-like tail design ensures that mortar does not track back into the tray, keeping it clean throughout the cleaning process.
"This tool is perfect for both experienced and trainee bricklayers," adds Ashley Williams. "It accelerates training and saves valuable time spent on scraping with wooden battens or struggling with muck-filled trays. No matter how skilled you are, dropping some mortar in the cavity is inevitable. The Cavity Tray Cleaner eliminates the wasted time and money associated with traditional methods."
In addition to reducing cleaning time, the Cavity Tray Cleaner prevents damage to the cavity trays and ensures that 'weep holes' remain unobstructed. It is a sustainable investment for builders and bricklayers, meeting the standards set by the NHBC (National House Building Council).
The Cavity Tray Cleaner is set to become an invaluable tool for thousands of professionals and companies across the country, revolutionizing the way cavity trays are cleaned and maintained.