New Construction Academy at HMP Leeds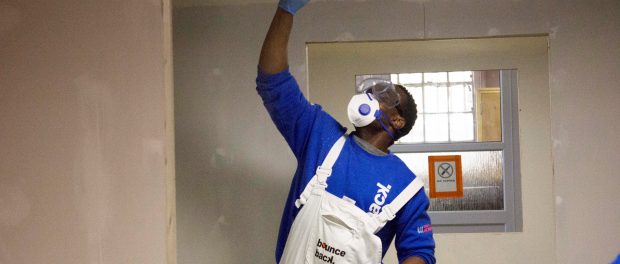 Prisoners will learn industry standard construction skills in new academy
Upon release graduates will meet local labour market needs and bridge national skills gaps
The academy launches one year since prison Education and Employment Strategy – as 81% of firms say offenders have helped their business.
A new construction academy inside HMP Leeds will turn prisoners into a job-ready, skilled workforce. The new education facility will help to cut the £15 billion annual cost of reoffending as ex-offenders in employment are less likely to commit further crime.
Launched on the 21st of May 2019, the academy will support up to 168 prisoners across 12 months, giving prisoners the skills they need to gain employment upon release, as well as bridging skills gaps in the construction industry.
The Chartered Institute of Building (CIOB) says the construction industry needs 157,000 new recruits by 2021 to meet demands. In Yorkshire and Humber 10,000 new construction workers are needed in the next five years to meet expected levels of work, according to the Construction Industry Training Board (CITB). This gap in workers is already limiting building activity, with 44% of SME house builders having said it is a 'major barrier' in the construction of new homes (FMB's House Builders' Survey 2018).
Once enrolled at the academy, prisoners will work towards level one qualifications including bricklaying, carpentry and joinery, wall and floor tiling, carpentry and joinery. Providing employment experience and skills inside prison is essential as two thirds of prisoners are unemployed at the time they enter custody.
Justice Secretary David Gauke said:
"Broadening access to training and work opportunities is a vital part of our strategy to steer offenders away from a life of crime and ultimately keep the public safe.
"I urge more businesses to join this movement and help ex-offenders turn their backs on crime for good."
The academy launch is just one of the latest efforts to rehabilitate offenders and steer them away from a life of crime. A change to the rules that will allow prison Governors greater autonomy to grant Release on Temporary Licence (ROTL) to offenders, following a rigorous risk assessment, has also been announced today. This will allow prisoners more opportunities to work and train with employers while serving their sentence and increase their chances of securing an immediate job on release.
Since May 2018 more than 230 businesses have registered to work with prisons and set offenders on a path to employment. This is further to the 300 businesses around the UK already seeing the benefits of employing ex-offenders. 81% of employers agree that employing ex-offenders has helped their business (YouGov polling).
Businesses considering offender employment will be supported by New Futures Network (NFN) – a specialist part of the prison service that brokers partnerships between prisons and employers. Prospective employers will have the chance to unlock opportunity by visiting individuals in the academy.
Steve Mellor, Operations Director for Kier Housing Maintenance North said:
"We're pleased that HMP Leeds has launched a new construction academy, this is a great initiative to help towards the rehabilitation of inmates.
"We fully support this and are currently in discussions with HMP Leeds on things like running workshops, offering mentoring, donating surplus materials and, where appropriate, working with our client to offer work experience to prisoners released on temporary license".
The training will be delivered by London based charity Bounce Back, who already run construction training in five London prisons. The project is funded via the HM Prison & Probation Service Co-financing Organisation (HMPPS CFO). HMPPS CFO is a £195m European Social Fund resettlement programme which delivers projects aimed at improving employability which are seen as key to changing offender's lives and reducing reoffending.