NASC signs Armed Forces Covenant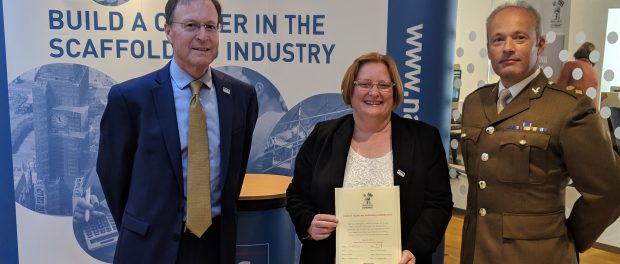 The NASC has further strengthened its connection with the military by signing the Armed Forces Covenant.
By signing the Covenant, the NASC has made a formal commitment to promote career and training opportunities in the scaffolding industry to ex-military personnel.
This cements an existing NASC objective to engage more regularly with the Armed Forces and the creation of a £150,000 funding pot dedicated to the training of ex-services personnel.
NASC Vice President Lynn Way said:
"We are proud to have signed the Armed Forces Covenant, making our commitment to encouraging Armed Forces personnel into taking up roles within the scaffolding industry official.
"In the past year we have begun promoting the variety of highly-skilled, well-paid and rewarding careers available in our industry to the Armed Forces community and have outlined plans to increase these efforts in the coming years.
"We recognise the skill sets of ex-servicemen and women, which is why we've created a funding pot to provide an extra incentive to consider a career in scaffolding. We believe this pot will help them transition as seamlessly as possible from the Forces to the scaffolding industry, providing many individuals with a long-term career and the UK scaffolding industry with the workforce it needs to continue to thrive."
Trudy Mensa-Bonsu, Regional Employment Engagement Director at the Ministry of Defence, said:
"I am thrilled that the NASC has recently signed the Armed Forces Covenant and also secured the funding to help Reservist, Veterans and Service leavers gain skills and training in the scaffolding field.
"We are delighted to see what the NASC have in future and will work with them in progressing through the Employer Recognition Scheme with hopes of achieving a Gold status in future."