Mi-space appoints Wiltshire subcontractor for £50m Oakfield project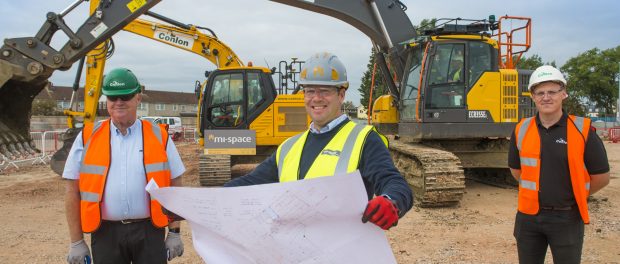 Mi-space has appointed Wiltshire-based groundworks firm Conlon to work on the Oakfield scheme, the brainchild of Nationwide Building Society in Swindon, further enhancing the community benefits of the project and creating more local jobs.
Mi-space, part of the Midas Group, one of the UK's largest independent construction and property services providers, was named in February as the main contractor for the £50 million project, which will create a thriving new community at the brownfield site, with 239 new homes to be developed, including 71 available for affordable housing.
Now in the construction phase at Oakfield, Mi-space is responsible for all of the building works and onsite health and safety, and has appointed Conlon to deliver the groundworks on the site, creating more construction jobs locally and supporting the local economy, in line with the scheme's main objectives. Conlon's main task in the coming months will be to build roads, sewers and to prepare the site for piling.
Oakfield is being delivered on behalf of Nationwide and takes an innovative approach to developing a new community, challenging the process at each step with the aim of creating an exemplar scheme, bringing people together and working with experts in design and placemaking. Nationwide aims to do more to tackle housing issues and create quality, sustainable homes with a focus on community, to demonstrate how housing can be done differently.
Rob Bennett, Project Director for Mi-space, said: "We are a business firmly rooted in the South West and Midas Group has a strong commitment to supporting the communities we work within and using our projects to create a positive legacy.
"Our ethos matches perfectly with the aims and objectives of Nationwide at Oakfield, and our appointment of Wiltshire based groundworks firm Conlon as a subcontractor on this scheme furthers the economic benefits the project is delivering locally during the construction period.
"Conlon do much of their training in-house, which is unusual for a groundworks company, and the plant and technology they use is industry-leading. About 60% of their workforce are local, and within their contract with us, they have agreed to specific employment and skills targets, which means they will employ local people, provide apprenticeships, and commit to continue to provide training for their local workforce.
"All of our subcontractor partners will be actively encouraged to provide work experience opportunities, to employ local people, to create apprenticeship opportunities, and to train their workforce, and each will be supported to do this by our Community Engagement Manager and Employment & Skills Plan Coordinator. We are confident that by working together with local partners, we will provide some fantastic employment and training opportunities as a result of building the new homes and community at Oakfield."
Conlon is a privately owned groundworks, civil engineering and demolition company originally founded in the late 1980s by the Conlon family and today employs more than 240 fully trained and skilled staff. The business is dedicated to developing staff organically, training many in-house and supporting their skills development.
Based in Cricklade, the company operates within a 50 mile radius of its head office across Wiltshire, Oxfordshire, Gloucestershire, Berkshire, Worcestershire and Hampshire. Conlon is widely regarded as a growth success story with the firm shortlisted in 2017 as one of the London Stock Exchange Group's 1000 Companies to Inspire, a programme which celebrates the fastest-growing and most dynamic SMEs in the UK and Europe. Conlon's successful sustainable growth has seen the firm increase turnover to £40m a year, with a focus on staff training and retention ensuring high levels of client satisfaction and repeat business.
The first staff from Conlon began arriving on site at Oakfield at the end of June, and by early August, 29 staff from Conlon were working at Oakfield, with 25 of them living within 20 miles of the site, and all living within 40 miles.
Dermot Conlon, Director and owner of Conlon, said: "It is a priority for us to employ a locally-based workforce to support the regional economy wherever possible but even more so for our workforce to be long-established and well-trained, so we can ensure the quality of our work is consistent for all clients, and we can trust in and rely on our staff to deliver at a high level.
"We provide a lot of training in-house, investing in our workforce and keeping staff up to date on the latest legislation and guidance, so our staff have the most current skills and qualifications. Apprenticeships are also crucial as it helps us to maintain growth and expansion with a workforce coming through for the future.
"We are a family business and our growth is less about being profit-driven and more aimed at being satisfaction-driven; rather than trying to expand too quickly, we aim to deliver steady, sustainable growth and ensure we have the right workforce in place to ensure quality management. You need a good workforce to deliver a good job, and to maintain client satisfaction.
"Oakfield is a key project for us and our first project working for Mi-space, and we are delighted to be on site already and working in parallel with the aims and objectives of Mi-space and Nationwide to deliver a pivotal development which provides benefits for local people and the local economy during the construction process."
Work on the £50 million development at Oakfield began on site in April, with construction expected to take around three and a half years, with the show home being launched in late 2021, and the first phase of new homes being completed in Spring 2022.
Nationwide hopes the Oakfield project will be used as a blueprint for other responsible businesses to follow, and the Society's Community Organiser is in regular contact with local residents and businesses in and around Oakfield.