McGOFF GROUP COMPLETES IN LYMM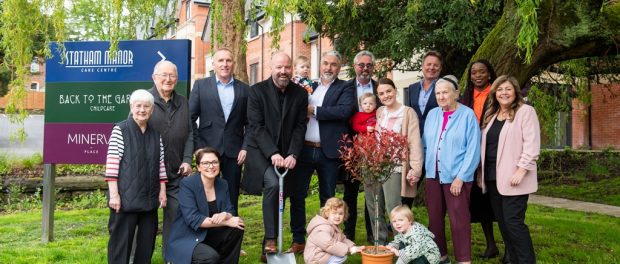 Build complete and now fully operational, the McGoff Group is celebrating the completion of its innovative intergenerational development in Lymm, Cheshire.
The first of its kind in the North West, the £15million development features a state-of-the-art 66-bed care centre, a natural children's day nursery and 45 individually designed retirement apartments resulting in a thriving new hyperlocal community on the corner of Whitbarrow Road and Statham Avenue close to the centre of Lymm village.
Highlighting the new sense of community, residents from Minerva Place retirement apartments and Statham Manor Care Centre joined children from Back to the Garden Childcare, senior representatives from the McGoff Group and members of the McGoff family to celebrate the completion of the two-year project and plant a beautiful red robin tree for all to enjoy for years to come.
Designed by the McGoff Group and delivered by principal contractor McGoff Construction in partnership with related Group companies including Panacea Building Systems and McGoff Group Facilities Services, the Lymm development has been an incredible success story.
Bringing together the best in care for the youngest and oldest members of the community, it is a new concept in multi-generational living that enables young and old to spend time in each other's company and enjoy proven heath, social and wellbeing benefits; something that is already working well in Lymm where the new community has come together to share stories for World Book Day, plant a communal flower and vegetable garden and celebrate the recent coronation of King Charles III.
Chairman of McGoff Group Projects, Dave McGoff, commented: "It's fantastic to be able to stand here with the new residents of this development and celebrate its completion.  Lymm has been a special project for us.  Not only was it the realisation of a concept that we believe so passionately in, but also because it has brought together so many parts of our business model. It is incredibly exciting to see it finally come to life and we hope it can set a blueprint for similar schemes in the future."
All aspects of the development are being operated by McGoff Group companies. Offering exceptional residential, 24-hour nursing, respite and dementia care services, Statham Manor is being operated by the Group's award-winning care home provider New Care while the nursery is being operated by Back to the Garden Childcare, the Group's natural child-led nursery concept focussing on active learning and outdoor play in a garden setting.  The Group's residential brand Villafont is running the apartments under its sub-brand Villafont Concierge, which offers an enhanced lifestyle package for those looking for a luxury property with the option to ask for elements of domestic support as and when to enable continued independent living.
For further information on the Lymm development, please visit www.newcarehomes.com, www.villafont.com and www.backtothegardenchildcare.com or watch the completion video drone here https://vimeo.com/816947881?share=copy.