Major Railway Supply Organisations join forces in new collaboration to form a 'Rail Innovation Family'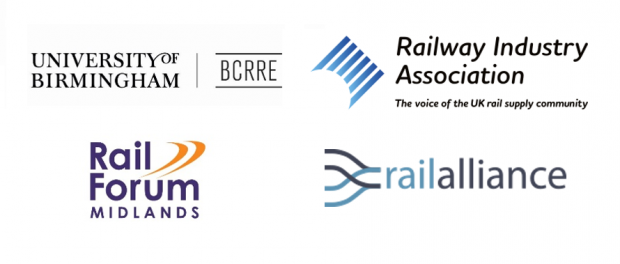 The UK's major representative organisations in the rail supply sector have joined forces in collaboration to form a 'Rail Innovation Family' that will help provide greater and clearer support for suppliers seeking to bring innovation into the rail industry.
This Rail Innovation Family will complement the work of the UK Rail Research & Innovation Network (UKRRIN), a £92 million partnership between academia and the private sector to promote innovation in rail.  Moreover, against the backdrop of the Rail Sector Deal, an agreement between industry and government delivered by the Railway Supply Group (RSG), the Rail Innovation Family will contribute directly to delivering even more value from the rail supply sector through stimulating innovation and encouraging diversification among other relevant sectors.
The collaborating organisations include the Birmingham Centre for Rail Research and Education (BCRRE), the Rail Alliance (part of the BCRRE), the Rail Forum Midlands (RFM) and the Railway Industry Association (RIA).  This Rail Innovation Family, launched at the Digital Railway Conference hosted by the University of Birmingham, will seek to coordinate the innovation activities of these organisations by:
Ensuring there is a clear explanation of how each organisation supports the rail innovation community;
Each organisation signposting and directing rail suppliers to the organisation best able to support them for any particular activity;
Promoting each other's innovation events, activities and services;
Helping to coordinate each organisation's event programmes to minimise date clashes and maximise the coordination of independent initiatives; and
Developing new activity to collaboratively promote innovation in rail.
Together, the organisations within this Rail Innovation Family will offer a powerful and extensive innovation offering, which includes, but is not limited to, RFM's Rail Sector Deal Midlands Based Pilot programmes covering SME growth through collaboration, RIA's Unlocking Innovation events and award-winning Innovation Conference, and BCRRE's DIGI-RAIL programme – an ERDF project identifying and developing demand-led digital demonstrators for the railway as facilitated by the BCRRE's Rail Alliance Community.
Alex Burrows, Managing Director of Birmingham Centre for Rail Research & Education (BCRRE) and Rail Alliance said: "This collaboration is the natural next step for the Rail Alliance Community as an integrated part of the Birmingham Centre for Rail Research and Education and will support our focus on translating research into commercial success as well as supporting the growth of SMEs through our innovation-based, community-orientated B2B activity."
Elaine Clark, Chief Executive of Rail Forum Midlands (RFM) said: "As organisations that regularly call on rail suppliers to work collaboratively we should be leading by example and I welcome this important initiative. In addition to UKRRIN there are numerous other regional and national facilities and funds for innovation that are relevant to our supply chain; no one organisation can be expert in all of them so we need to share our collective knowledge for the benefit of the industry and ultimately for our passengers and freight customers."
David Clarke, Technical Director of the Railway Industry Association (RIA) said: "This is an important and mature step by the supply chain organisations recognising that we all have the same objective to grow the UK supply chain and so collaboration must be the natural way forward. I look forward to working with my Rail Innovation Family colleagues to offer even greater support to the many innovative companies trying to improve the rail industry."
Professor Clive Roberts, Director Birmingham Centre for Rail Research & Education and Academic Lead for UKRRIN said: "This is a further example of the benefits of UKRRIN to the supply chain, bringing together all the leading supply chain bodies in a collaboration to support innovation. This initiative complements the core technical skills of the UKRRIN university partners by providing much needed practical support and advice which is particularly valuable to smaller companies and those new to the rail industry."
Jo Binstead, Chair of UKRRIN said: "I am delighted to see this new collaboration between the key supply chain bodies which has great potential to 'simplify the landscape' for innovators seeking to engage with academia and industrial partners within UKRRIN."
Maggie Simpson, Director General of the Rail Freight Group (RFG) said: "Rail freight is benefitting from new technology and innovation, which is driving growth and efficiency.  We welcome this new collaboration which will streamline and promote innovation programmes, providing a clearer landscape for freight businesses and leveraging even greater benefits for the rail industry."