Have your say at UCEM's housing event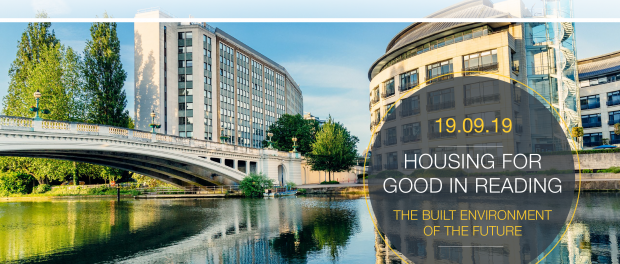 In aid of Launchpad at Reading Town Hall
Innovative ideas for creating long-term sustainable housing solutions in the Thames Valley will be explored at a public event in Reading in September.
University College of Estate Management (UCEM) is hosting the 'Housing for Good' event in aid of its charity partner, Launchpad, at Reading Town Hall as part of its centenary activity.
Reading East MP, Matt Rodda, Bioregional Chief Executive, Sue Riddlestone OBE, and Haslams Estate Agents Managing Director, Steve Woodford, will present and take part in the panel discussion and Q&A.
Following the panel discussion, there will be a champagne and canape reception for the guests who will then be invited to view the UCEM exhibition at the adjacent Reading Museum. The exhibition showcases previously unexplored heritage including UCEM's role in educating British Prisoners of War and members of the Women's Land Army during the Second World War.
UCEM Deputy Principal, Jane Fawkes, said: "I'm looking forward to our panel and the local community coming together to explore future housing solutions for the Thames Valley. The provision of adequate housing for a growing populace is one of the most crucial, global issues we are confronting and by bringing together a panel representing politics, sustainability and housing, I'm hoping we will be able to provide some answers and pertinent questions which will shape the future of the Thames Valley as we know it.
"UCEM has now been based in Reading for nearly half a century so, on the occasion of our centenary, we wanted to give something back to our hometown through this event. Involving our charity partner, Launchpad, which does such excellent work in preventing homelessness in the town, in the event is another way of giving back and acknowledging those who work so hard to make Reading a great place to live."
Launchpad CEO, Ian Caren, added: "The severe lack of high-quality, affordable housing in Reading is one of the major contributory factors to the town's high rates of homelessness. I am delighted that UCEM, as part of its centenary celebrations, is drawing attention to this issue with its conference's topic, Housing for Good.
"Launchpad was established 39 years ago by students at Reading University concerned at the lack of support for the homeless who set up a soup kitchen in response. It now provides homes for over 100 single people and families in housing need; a drop-in service to provide support and information to those at risk of losing their homes; and a wide range of therapeutic activities to rebuild the lives of those whose lives are so affectedby homelessness. As a charity, we rely on the goodwill of the people and organisations of Reading to fund our vital work. I would like to personally thank UCEM for its support over the years."
The evening event, which is free to attend, takes place on Thursday, 19 September. For more information and to register your attendance, visit ucem.ac.uk/housingforgood