Leicestershire site manager celebrates winning coveted industry award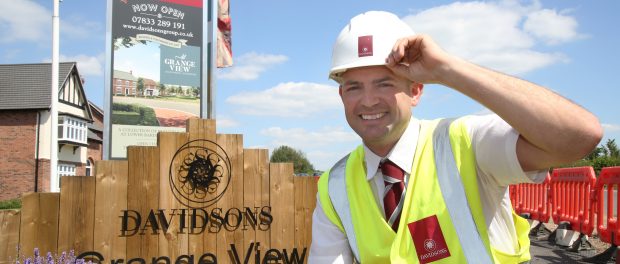 A Leicestershire site manager has won a prestigious industry award in recognition of the high standard of his work.
Jonathan Glover, who is site manager at Davidsons Homes' Grange View development in Lower Bardon, near Coalville, has received a Pride in the Job Quality Award from the National House Building Council (NHBC).
A Pride in the Job is the highest accolade that a site manager can achieve and is awarded to around just 450 recipients out of 16,000 site managers across the length and breadth of the country.
Jonathan's award is the first Pride in the Job he has received in his seven years as a site manager and comes just 16 months after he joined Davidsons Homes.
Jonathan, 31, said: "It's a brilliant feeling to win my first Pride in the Job award.
"As a team we have worked really hard over the past 12 months and it's great to be recognised in this way.
"I think what impressed the judges was the cleanliness of the site and the quality of the workmanship."
He added: "We have got a lot of good tradespeople on site who know the standards that we expect from them."
Davidsons Homes is building around 600 homes at Grange View, a range of two, three, four and five-bedroom properties off Grange Road.
Around 50 plots have already been completed.
"Although we are thrilled to win this award, we certainly won't be resting on our laurels and we will be striving to make sure standards are just as high next year," said Jonathan.
Ian Featherstone, Construction Director at Davidsons Homes, said: "This award is a fitting recognition for the fantastic job that Jonathan has done at Grange View since he started the site 16 months ago.
"While Jonathan will no doubt be the first to say that that this is very much a team effort, the award would not have been achieved without him at the helm, and we would like to congratulate him on a job well done."