Edmond Shipway celebrates major achievement as Center Parcs officially opens first Irish resort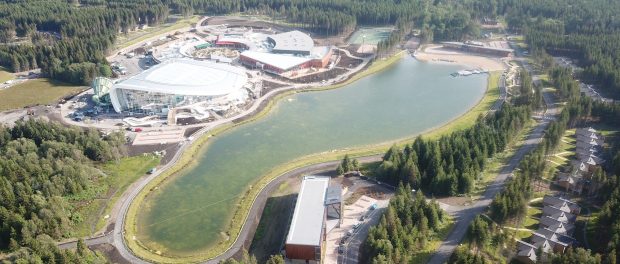 Center Parcs Longford Forest, the largest ever tourism project in Ireland, on which multi-disciplinary construction consultancy Edmond Shipway was appointed as project manager, cost manager, and M&E consultant, has officially opened, having been completed on time and to budget.
The £210 million (€233 million) resort in Newcastle Wood, County Longford, took two years to build and was recently opened by An Taoiseach Leo Varadkar, who said: "This huge tourism development has the potential to be a game changer for the Midlands. It will bring unprecedented numbers of tourists to this beautiful part of the country and the creation of new jobs will have a positive impact across the region. It's world-class."
This is the latest in a string of major developments with which Edmond Shipway has been involved on behalf of Center Parcs over the past decade, including roles as project and cost manager for the delivery of the 365-acre Woburn Forest resort.
The new holiday village shares Woburn's discrete design which allows it to be concealed within a 395-acre site near Ballymahon, while retaining the high-quality features for which Center Parcs is renowned. These include 466 self-catering lodges and 30 apartments, a Subtropical Swimming Paradise, Aqua Sana Spa, shops restaurants and cafés, as well as more than 100 leisure activities.
In addition to the 750 jobs created during the construction phase, now the resort has been handed over it is expected to provide an additional 1,000 permanent roles in the locale. In total, the new site is set to add around €32 million (£25 million) to Irish gross domestic product (GDP) per annum, and around €1 billion (£775 million) over the next 20 years, making it the biggest private tourism development in the state.
David Stevenson, Managing Director at Edmond Shipway, said: "Having worked with Center Parcs on a number of its fantastic developments, I am delighted to be celebrating the completion of yet another exceptional village. Following an almost two-year construction process, I am particularly proud that Edmond Shipway was able to play such an instrumental role in its delivery on schedule and within budget, once again."
Martin Dalby, Chief Executive Officer at Center Parcs, added: "Four years since we first announced our plans to expand into Ireland we all feel an enormous sense of pride and achievement to see the beautiful surroundings of Newcastle Wood transformed into Center Parcs Longford Forest, and for Ireland's families to finally have the opportunity to enjoy a unique forest resort experience."