Leading figure in construction industry becomes top dog of national charity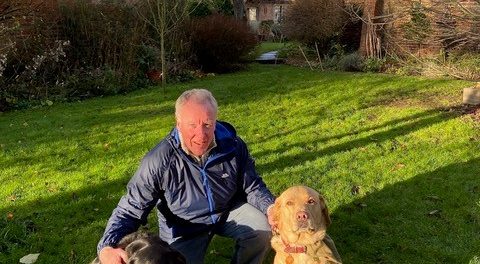 A leading figure in the property and construction sectors has become the new boss of a national assistance dog charity.
David Hobson, project manager of the Sheffield Olympic Legacy Park, who has more than 40 years' experience in the building and construction industry; procuring, constructing and operating buildings, took over as chairman of the board of trustees of Support Dogs on January 1.
Mr Hobson, aged 65, who joined Support Dogs' board two and half years ago, said his top priority was finding a bigger, fit-for-purpose training centre to allow Support Dogs to grow and be more efficient.
Support Dogs' chief executive Rita Howson said: "David is able to contribute a wealth of experience as our chairman of trustees sharing knowledge and lessons learned from his experience in the corporate environment, and specifically supporting our management team in their property strategy."
For the past 20 years Support Dogs has been based in a light industrial estate in Sheffield but growing demand for its services is now prompting a move to a more suitable building located in the countryside.
The charity trains assistance dogs for children with autism and adults with epilepsy and physical disability, enabling them to lead safer, more independent lives.
Mr Hobson, aged 65, also pledged to make sure the charity was able to carry on its life-changing work during the pandemic. "We need to make sure that we continue to operate during these difficult times and that we have a strong charity when it is back to 'normal'," he added.
Mr Hobson, who has supported a range of trusts and charities in the health and wellbeing sector over the past decade, also has two rescue Labradors, Ted and Harry. "I take inspiration from the training that Support Dogs provides, but alas with our dogs it's very much work in progress," he said.