Leading Building Products Manufacturer Forterra Highlights Road Safety with Hi-vis Donation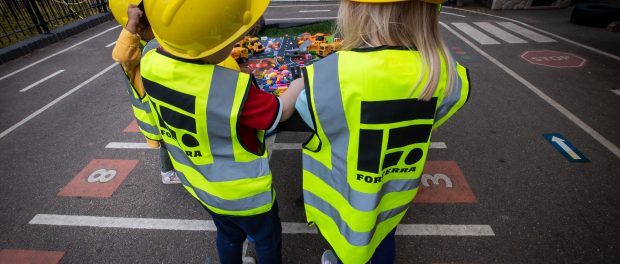 Forterra has donated £500 worth of hi-vis vests, hats and construction toys to around 40 children at a pre-school close to its head office in Northampton.
UnSug-Forterra-GrangeParkSchool-16112021-14 – Pupils enjoy their new construction toys wearing Forterra PPE
As shorter days draw in, staying safe and visible in the dark while on foot is even more important, especially for youngsters, so Forterra selected Grange Park Pre-School to receive the helpful donation. The pre-school has already been using the items for trips out and to help give the children an understanding of road safety and the different kinds of jobs people do.
Sarah Crofton from Grange Park Pre-School said "The children have been so excited by this donation and it is inspiring them to talk about the dangers of vehicles when near a road. They have already used their hi-vis for a trip to the letterbox!
"They are very enthusiastic about the construction themed toys too, and it's because of this that we have arranged for real woodwork to be brought in for them to explore."
Stephen Harrison, Chief Executive of Forterra said "We hope our donation will start conversations about the importance of road safety and promote key messages on how to keep safe. We also hope they will enjoy the construction themed toys!
"We aspire to make a positive difference in the local community wherever we can, in this instance we hope they are able to learn early valuable lessons, especially for children who will soon start walking to and from school."
For more information about Forterra, please visit https://www.forterra.co.uk/.