Land & Water completes works on one of the largest River restoration projects of its kind in Europe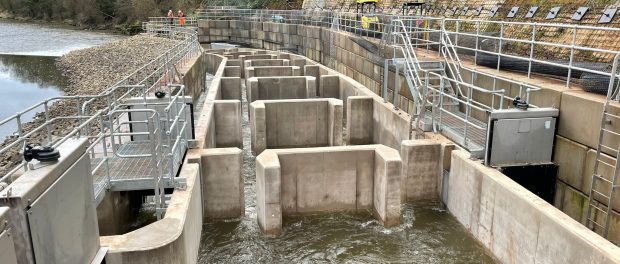 Leading wet civil engineering firm Land & Water has completed phase two of works at the 'Unlocking the Severn' fish pass construction site at Holt Weir, along the River Severn in Worcestershire.
On behalf of its client Kier, the penstocks have now opened with the main fish pass works complete and signed off, enabling the rare migratory fish, the shad, to travel to their natural spawning grounds for the first time in nearly 180 years. The fish pass will also benefit salmon, eels and lamprey.
Having been involved in the project since the beginning of 2020, Land & Water has achieved many milestones during this project from championing new ways of working due to the Coronavirus pandemic to delivering one of the biggest crane and pontoon arrangements in the business' history.
Lucy Lee, Contracts Manager at Land & Water, said:
"We are extremely proud of the works we have carried out during one of the largest river restorations of its kind ever attempted in Europe.
"Land & Water is committed towards delivering, maintaining and sustaining the UK's natural capital, improving the eco-system of our waterways for years to come whilst also increasing biodiversity.
"Despite the challenges presented to us during this project including the Coronavirus pandemic and the River Severn being an unpredictable environment to work in, the Land & Water team worked safely and collaboratively in order to protect the local aquatic life and I would like to thank each and every person that has been involved."
Funded by the National Lottery Heritage Fund and the European Union LIFE programme, 'Unlocking the Severn', a project led by the Canal & River Trust with partners Severn Rivers Trust, Environment Agency and Natural England, will restore connectivity on the UK's longest river and aims to deliver ambitious heritage, education and science programmes that will reconnect millions of people with the river.