Kensa shine at COP26 with prestigious Climate Innovation award win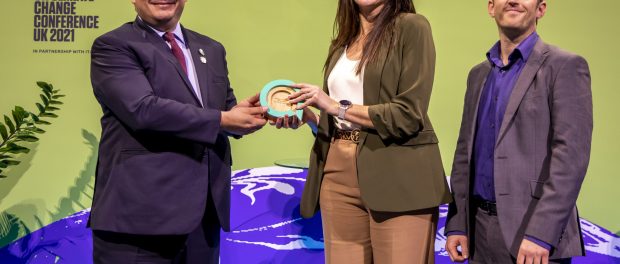 Kensa Group, the UK's only manufacturer of low carbon ground source heat pumps, was among a global cohort of winners of the esteemed Ashden Awards. They are urging the government to think 'big' about the opportunities for the widespread installation of heat pumps across whole communities.
Climate solutions charity Ashden honour pioneering organisations lowering carbon emissions and building a fairer world. The winners were announced at COP26 in a ceremony attended by the President of Costa Rica, Carlos Alvarado.
Kensa was nominated for the UK Climate Innovation Award for its ongoing commitments to the decarbonisation of heat, including the pioneering use of shared ground loop arrays and ground-breaking Shoebox heat pumps in district heating schemes.
This vision for the mass scale transition to networked ground source heat pumps has been brought to life in an augmented reality experience, 'Welcome to Green Street', unveiled by Kensa at COP26 – access it HERE.
Using ground-breaking technology, Kensa's virtual tour guide Doug sets out the benefits of networked heat pumps in an interactive fly-through and shows how they can heat entire streets from houses to tower blocks.
To experience Green Street please visit www.welcometogreenstreet.com.