Keepmoat donation to NHS charity's playground project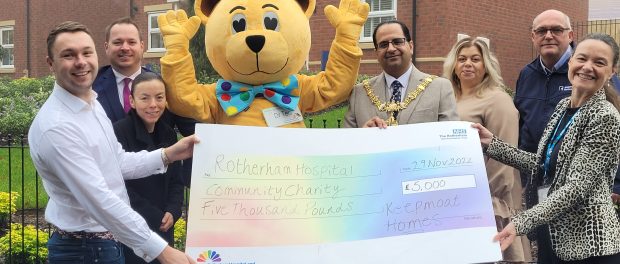 The Rotherham Hospital and Community Charity is one step closer to fulfilling the dreams of children cared for at Rotherham Hospital thanks to a £5,000 donation from Keepmoat.
The generous donation is a major boost for the charity's Christmas fundraising appeal, which this year aimed to fund the redevelopment of the Children's Ward outdoor play area.
The donation was celebrated at the launch of Keepmoat's latest housing development at Moorgate Boulevard, off Moorgate Road, Rotherham, where representatives from Keepmoat were joined by the Mayor of Rotherham, Cllr Tajamal Khan, and Dr Ted to explore its new showhomes which are now open to the public.
Alongside the charity donation, Keepmoat is offering an exclusive £1,000 referral bonus*, for The Rotherham NHS Foundation Trust staff when they successfully refer friends and family who go on to purchase a new home at the development.
Rachael Dawes, Head of Fundraising, said: "We are so grateful and proud to receive such a significant donation from the team at Keepmoat. Their new showhomes at Moorgate Boulevard are a short walk from Rotherham Hospital so it showcases their commitment to enhancing the environment around them.
"We have ambitious plans to revamp the rooftop space and hope to make it a special place for children and young people for generations to come. We're one step closer to making that happen thanks to Keepmoat. I hope they have inspired other businesses, community groups and individuals to support us too."
Last year, colleagues at The Rotherham NHS Foundation Trust, schools, community groups and individuals pooled their festive cheer to kick-start fundraising for the play area, raising a magnificent £6,500 by taking part in our Virtual Santa Jog, Santa's Grotto and Christmas Jumper Day.
More than £30,000 is needed to revamp the play area, so every penny raised will count.
Our previous young patients, their families and Children's Ward staff have already told us what their dream play area would look and feel like – now we need your support to make their dreams a reality.
Antony Rowe, Sales Manager for Keepmoat, said: "We are absolutely delighted to be supporting another important institution in the community next to our new Moorgate Boulevard development. As homebuilders, we strive to build communities and transform lives, and I'm proud that we are able to support the Rotherham Hospital and Community Charity through our donation. The donation is designed to enable children of all ages who may find themselves at Rotherham Hospital, to enjoy an improved children's ward play area on its rooftop.
"We were honoured that our three fabulous showhomes have been officially opened by the Mayor of Rotherham, Cllr Tajamal Khan, and the charity's mascot Dr Ted. Our new 170-home development is located opposite Rotherham Hospital, which is in ideal proximity for commuting staff – and our referral scheme is designed to support NHS employees get their foot onto the property ladder.
"We look forward to welcoming future visitors to our Moorgate Boulevard showhomes and we're excited to create a thriving community that is dedicated to improving lives."
(*paid to the referee on legal completion)