Forterra celebrates decades of dedicated service at awards ceremony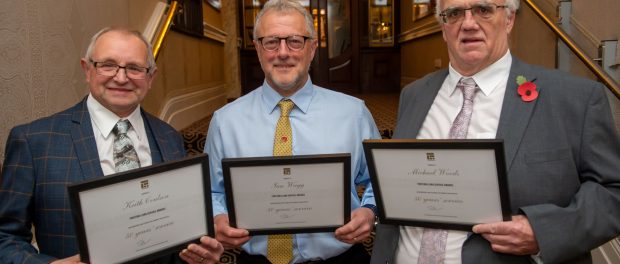 Leading building products manufacturer Forterra recently celebrated its longest serving employees, including employees with over 50 years of service, at its 2022 Long Service Awards held at the St. Ermin's Hotel in London.
Among the celebrated employees were Keith Coulson, from Whittlesey, Ian Wagg, from Measham,  Michael Woods, from Folksworth and Robert Britton, from Bedford, each of whom have worked for Forterra for over 50 years.
Robert Britton has had one job throughout his entire career, bringing an extraordinary diligence and expertise to his work as a mobile fitter and engineer for more than 50 years. Starting in the workshops at what was then Stewartby at Kings Dyke, in Whittlesey near Peterborough, where he was involved with vehicle maintenance, Bob went mobile in 2009, travelling around the production depots carrying out repairs to the fleet.
Joining Robert Britton as a recipient of the 50 year award is Keith Coulson, who began his career in 1972 at age 15 working as a messenger boy at Kings Dyke. Keith took on multiple different roles across his career, before taking on the role of Wicket Man, which he has held from 2002 to 2022. Responsible for the dismantling, erecting and maintenance of the 'wickets' or kiln doors, Keith enjoys his job as Wicket Man immensely.
Keith is proud to be of the third generation of brickyard workers in his family, and his son has recently joined the company to establish four generations of Coulsons working in the same brickyard.
Electrician Michael Woods has spent his entire life within the Whittlesey brick industry. After gaining his apprenticeship as an electrician, he became a high-tension jointer, working with high voltage cabling. He subsequently spent time as a robot operator at Saxon plant up until its closure in 2011, before taking up his current role of shift electrician in the Kings Dyke electricians' shop.
Michael is in good company, with his father and grandfather having both also accumulated over 50 years each within the brick industry. A well-respected member of the team, Michael's extensive knowledge and his willingness to deal with anything his work throws at him has meant he's been a valued and productive employee.
Another Long Server is Ian Wagg, who joined the company in July of 1972. Ian's first job was to manually rotate a potter's wheel for the chimney-pot makers at the Measham Red Bank factory in Leicestershire. Ian eventually began working within a production gang on vertical extruders, a role he remains in today.
In his spare time Ian volunteers for the Measham First Responders first-aid service, helping to save lives and aid those in need. In May of this year Ian was awarded the Official Commemorative Platinum Jubilee Medal in recognition of his work for the volunteer group.
"One of the most valuable things for me as an employee has been the camaraderie between employees," says Ian. "Looking back on my time at the company, I have really fond memories of the people I've worked with and the overall communal and social environment.
"One of the most rewarding things I've seen during my time here is the company's implementation of several mental health awareness initiatives, which is something I've been passionate about for a long time.
"I've thoroughly enjoyed my time at Forterra and I will certainly continue to enjoy it!"
Stephen Harrison, CEO of Forterra, said, "We are proud to recognise the lifetime of service these employees have given to Forterra. Each of them is a valued and respected part of our organisation and each has made quite a name for themselves across the company over the years.
"We aspire to make our company a place that rewards its employees for their hard work while helping them become the best possible version of themselves. Each of these Long Service Award Winners is a testament to that, and each of them has more than exceeded our expectations."
For more information on Forterra, visit https://www.forterra.co.uk/.