IQL's Pavilion tops out after just 14 weeks of superstructure works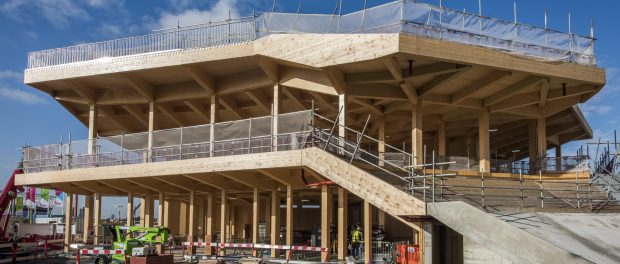 International Quarter London has 'topped out' on the pavilion at the heart of the 22-acre development. The landmark building, designed by ACME, and made almost entirely from cross and glue laminated timber, has reached its highest point and taken shape at a rapid pace since the project broke ground in February earlier this year.
The frame began arriving on site during the summer, and took 14 weeks to be assembled, with every piece arriving ready to be slotted into place in an impressive show of organisation and efficiency.
When complete, the 10,000 sq. ft. pavilion will house restaurants across the ground and first floors and a rooftop terrace and bar will provide views across Queen Elizabeth Olympic Park towards the London skyline.
Andrew Tobin, Project Director of IQL, Lendlease said: "We're very proud to be able to bring this innovative building to Stratford, and of the part it will play in bringing our local communities within IQL and the wider area together. We're also looking forward to announcing more details in due course regarding the dining experience that will be available within this remarkable space."