INNOVATION, INCREASED EFFICIENCY, NO FACE FIT TEST: MEET SWISS AIR!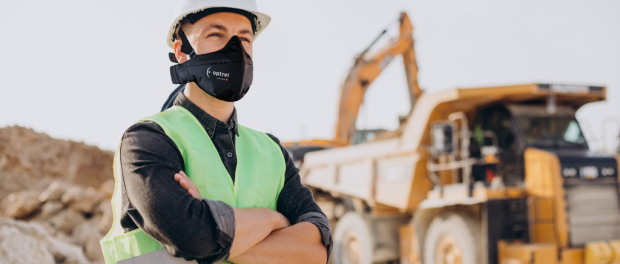 Protecting lungs is becoming increasingly important in the construction industry. In particular, it is imperative to protect oneself from the health implications of silica dust. We are proud to introduce you to optrel's fully carbon-neutral blower respirator.
Silica dust exposure is no more
Silica dust particles get into the lungs very easily. Once there, they lead to coughing, shortness of breath and bronchitis. In the long term, there is a risk of pulmonary fibrosis and silicosis. This is precisely why it is important to equip workers on the construction site with respiratory protection systems. But standard respirators are associated with respiratory resistance, fatigue and sweating. With optrel's swiss air blower respirator, these issues are a thing of the past.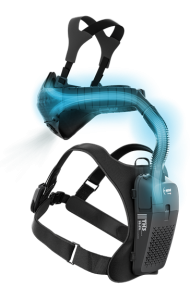 No need to down tools – and no need to shave
With the swiss air respirator, your construction worker is supplied with fresh, filtered air thanks to the integrated blower system. This creates an overpressure in the half mask that supports breathing and counteracts fatigue. The fresh air brings a cooling effect that reduces sweating and promotes concentration. But not only that: Thanks to the overpressure system, the mask does not have to fit tightly, no fit tests are required, and beards don't need to be shaved either. Your construction worker does not have to take forced breaks because of the mask, as is commonly the case with standard dust masks. This results in increased performance and efficiency, combined with reliable respiratory protection.
Innovation and sustainability
The swiss air respirator is a reliable respiratory protection system that truly pays off. Not only that, the respirator lends workers an extremely professional appearance, thereby enhancing your image. The system is a one-off initial investment – after this, it is only the filters that need to be changed on a regular basis*. Using filters reduces waste compared to conventional dust masks. But with the swiss air, you play your part in contributing to even greater sustainability – with every purchase we plant a tree through global reforestation projects. The fully carbon-neutral respirator is truly innovative, as attested by its winning the Red Dot Award.
* Filter changes depend on the dust load. But that is solved very easily: The swiss air respirator indicates the degree of contamination of the filter.
Compatible with all common helmets, ear defenders and goggles
Swiss air is easy to operate and, thanks to its protection cover, is protected against dust and rain. The system is lightweight, so wearers will barely notice it's there, and the ergonomic carrying unit allows your construction worker to move freely. The blower respirator functions autonomously, meaning it works independently of other protective headgear, hearing protection or protective eyewear.
Get in touch with optrel:
Andrew Knott, Sales Manager United Kingdom, +44 78 415 999 82, andy.knott@optrel.com