Housebuilder helps build new home – for football club's new tractor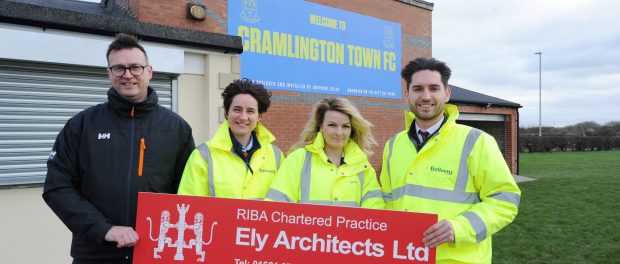 When Cramlington Town FC raised the funds to buy a new tractor and grass cutter, they needed somewhere secure to store it – and turned to local housebuilder Bellway for help.
The housebuilder, which is building new homes at St Nicholas Manor and Arcot Manor in Cramlington, responded by offering to build a garage as an extension to the clubhouse, off Farm Road, East Hartford.
Bellway worked alongside Ely Architects to provide well-designed storage with enough space for the new grounds equipment and football equipment as needed.
The project was completed in February and the garage has now been handed over to the club.
Club President of Cramlington Town FC, Ian Coates, said: "Cramlington Town are so pleased to have had the support from Bellway to build our new storage facility, without this the club would not be able to store our equipment which is used by hundreds of children throughout the season.
"Without the support from Bellway, the project would not have been able to be completed."
Head of Sales for Bellway North East, Emma Chesterton, said:
"As a housebuilder, it's a key part of our ethos not only to build high-quality new homes for local people, but also to build relationships and work with the local community, and we are therefore committed to supporting groups and organisations in Cramlington.
"We are very pleased with how this wonderful project has turned out, and we hope this space will be of great use to Cramlington Town FC for many years to come."
Paul Ely, Director of Ely Architects, said:
"This project has been a great example of Bellway's involvement in supporting community projects.
"As a result of the additional facilities at East Hartford, Cramlington Town FC will be able to continue to deliver excellent football coaching to the local community."
Bellway is currently building a range of two, three and four bedrooms at Arcot Manor, off Fisher Lane, Cramlington, and St Nicholas Manor, off Station Road in the town.
For more information on the new homes available, visit bellway.co.uk.