HFE Signs- Printing Signs & Banners Since 1996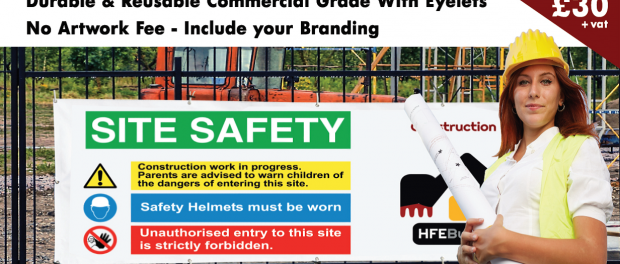 HFE Signs have been printing Signs & Banners since 1996 so you can be sure you're working with a team with experience in abundance! Whether you're looking for a small rigid sign or a large banner the design team at HFE are at hand to help with your design. Design is FREE of charge at HFE and all work is printed in-house, this gives greater flexibility over your artwork and means you are not limited to standard signage, you can add your own logos, images and custom text.
Safety Signs is just one of many products on offer at HFE, and again they can all be customised at no additional cost. PVC Banners are probably one of HFE's best-selling product, on an average day anything between 50-100 PVC Banners are designed, printed and finished all with bespoke artwork! The team at HFE offer a super-fast turnaround with PVC Banners leaving same day if ordered by 11am.
Whether you're looking for permanent signs, temporary signs or something for your business reception like roller banners, HFE have a solution. HFE's website www.hfe-signs.co.uk have a wide variety of products and the majority of them can also be designed online! If you're not happy with IT, don't worry, the staff are at hand to assist you with your design, simply explain what you want and the team will work their magic and send you a proof. And furthermore you don't pay a penny until you are happy with your artwork and wish to proceed.
All artwork is stored, so should you wish to order again HFE will have your design safe even if its years later. Oh and just to be 100% confident, have a look at their TrustPilot reviews, you won't be disappointed.