Halspan marks 25th year with new inspection services to extinguish risk and help save lives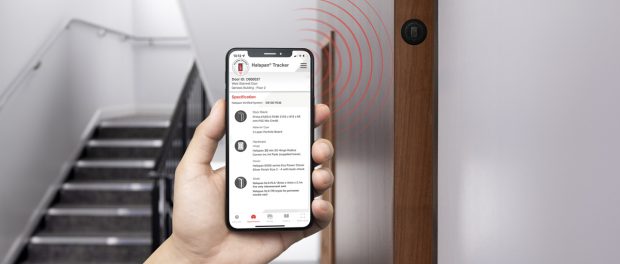 Halspan, a global leader in fire door safety systems, has introduced new Halspan®️ Inspection Services to build out its existing range of products and services, helping facility managers and building owners meet today's building safety standards. 
A pioneer in quality fire door components, Halspan has paved the way in fire safety for 25 years with its innovative 3-layer particle board door blanks and commitment to rigorous, international-standard testing. Today, the Scottish business sells over half a million fire door blanks annually to 65 countries.  
Halspan's fire safety solutions ensure compliance and peace of mind throughout the supply chain.  
The launch of Halspan®️ Inspection Services comes at a critical time for the sector. In 2021, 147,295 fire-related emergencies and 280 resulting fatalities were recorded by Gov.uk. Faulty or outdated fire door systems are a known risk factor for fire-related deaths, providing little to no protection against the spread of hot gases and smoke. 
 Halspan's new service seeks to minimise this risk. Established in response to the Fire Safety Act 2021 and mounting pressure on building owners to ensure compliance, Halspan®️ Inspection Services enable organisations and individuals to meet their legal obligation and satisfy the requirements of the so-called 'Golden Thread'. 
Delivered by Halspan accredited inspectors, the process assesses whether a building's fire safety assets are correctly installed and maintained using the Halspan®️ Tracker, providing corrective measures for any component that does not meet the necessary standard.  
Launched in 2022, the Halspan®️ Tracker uses a smart tag fitted on a fire door to act as a record of its history and quality assurance for inspectors. Halspan-accredited inspectors can review this record in an instant, before completing a comprehensive step-by-step inspection and delivering their assessment. 

Simon Kelly, Operations Manager – Inspection Services, said: 
"Halspan®️ Inspection Services will help ensure continued compliance and peace of mind for any responsible person tasked with building fire safety.  

"For building owners and facility managers, this innovative new service gives access to a fire door safety system's complete installation and maintenance record to help keep it safe and minimise risk."  
Andrew Wallace, Halspan MD added: 
"Over the last 25 years, Halspan has consistently innovated to maximise fire safety compliance and ensure the highest standards throughout the supply chain. Halspan®️ Inspection Services raises the bar for our industry.  

"Our inspection services are carried out in accordance with the Halspan Inspection Charter and following the Halspan Inspection Protocol, ensuring consistency and accuracy every time."