GRAHAM awarded additional Dounreay contract for shielded waste containers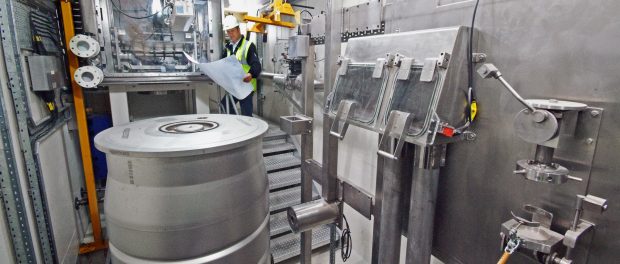 GRAHAM has been appointed by Dounreay Site Restoration Ltd (DSRL) to construct a new shielded Intermediate Level Waste (ILW) Drum Store Extension and an Unshielded Waste Store Extension for shielded waste containers next to the existing Dounreay Cementation Plant (DCP) complex.
Valued in excess of £22m, the complex works programme on behalf of DSRL – the site license company contracted by Nuclear Decommissioning Authority (NDA) for the safe and secure clean up of the Dounreay nuclear site – begins later this month.
Dounreay is Scotland's largest nuclear decommissioning project and is widely recognised as one of Europe's most challenging nuclear closure programmes.
The site belongs to NDA, a non-departmental public body of the UK Government.
The successful contract award follows a competitive tendering process involving several bidders, with the standstill period elapsing on Monday 24th September.
The pre-construction phase is expected to take 25 weeks while construction is scheduled for a duration of 125 weeks.
Continued transformation
Commenting on the successful contract award Leo Martin, GRAHAM Managing Director – Civil Engineering, said:
"Our knowledge of construction and delivery within a nuclear environment, combined with our experience in working with stringent safety systems, will ensure that we deliver assurance in the installation and validation of electrical and control equipment on site.
"This is an important project on behalf of Dounreay Site Restoration Limited and will support the continued transformation of the Dounreay nuclear site into a safe, secure area. We have already established a strong partnership with Dounreay Site Restoration Limited, stretching back to early 2011, and will once again apply our collaborative approach and technical expertise to maximise the success of this project."
Long-term storage
The project will see an existing above ground waste store extended to house intermediate level waste that is expected to be processed and packaged as part of the site's clean up. Passively safe containers will be kept in long-term storage within the facility in accordance with Scottish Government policy.
DSRL Construction Director, David Hubbard, said:
"This contract represents an important step in the long-term management of the site's waste. It is just one of several contracts being awarded to ensure we continue to reduce hazards and make progress towards the site's interim end stage. The next few years will see us construct several new facilities to support the programme as well as starting to demolish a number of redundant structures."
Community development
Around 100 people are expected to work on the project. GRAHAM is committed to a series of community development initiatives, including work placements and the recruitment of trainee positions. This is part of DSRL's requirement for its supply chain partners to consider how they can support Caithness and North Sutherland's socio-economic agenda. GRAHAM also plans to work with local training suppliers to develop its workforce involved in the project, particularly supporting some to achieve NVQ Level 2 and above qualifications.
Nuclear expertise
GRAHAM has a deep understanding of the Dounreay site and has already successfully completed a Grout Plant Facility and constructed two Low Level Waste Vaults involving the total excavation of 243,000m3 of rock.
Demonstrating GRAHAM's nuclear expertise further, it completed the regeneration of multiple, time-expired manufacturing and support facilities as part of an £80m Core Production Capability (CPC) Regeneration Project at Rolls Royce's Nuclear Fuel Production Plant (NFPP) in Derby.
In addition, GRAHAM is a strategic delivery partner of Low Level Waste Repository Limited (LLWR) as part of a four-year framework agreement, providing technical engineering, design and construction expertise at the UK's national low level radioactive waste disposal facility in West Cumbria.