Fusion21 and Newlands Developments announce new partnership to drive social impact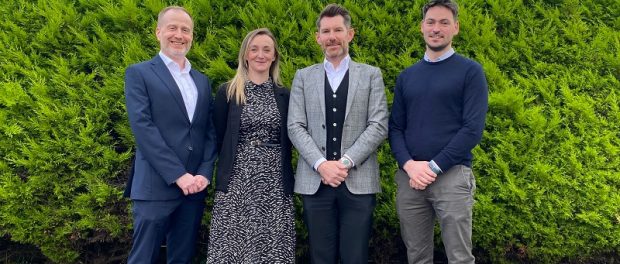 National social enterprise Fusion21 has officially announced a new nationwide social value partnership with Rugby-based developer Newlands Developments. The ground-breaking collaboration will see social impact incorporated into all Newlands Developments' projects at the pre-planning application stage to ensure multi-million pound developments benefit the local area and people who live there.
Fusion21, based in Merseyside, specialises in public sector procurement and social value services, and first joined forces with Newlands Developments in 2021 on their Brackmills Gateway project in Northamptonshire. The support from Fusion21's social value experts saw significant benefits delivered for the local community, including the creation of 45 full-time jobs, subcontracting packages awarded to 23 businesses within a 20-mile radius, and a dozen on-site training courses provided to local residents. Impressed by the success of Brackmills Gateway, Newlands Developments approached Fusion21 for their help with projects nationwide. Fusion21's social value team is now working with the developer on extending their social value footprint with a number of major planned schemes. The team is helping them to maximise social value within developments, which could be through creating jobs, offering work experience opportunities for young people, or reinvestment within the local borough through using local supply chains.
Ben Taylor, Planning Director at Newlands Developments, said: "This is an exciting partnership for Newlands who are fully committed to embed our schemes in the communities they serve.  Fusion21's experience will assist us in meeting the social value objectives contained in our ESG & Sustainability Strategy published earlier this year, that includes preparing detailed Employment, Training and Skills Plans for all of our projects."
Fusion21's strong track record was also a key factor for Newland Developments.
They were involved in the £80 million Headbolt Lane infrastructure project in Kirkby, which resulted in £518,000 of local investment and jobs for 117 Knowsley residents.
Over the previous 12 months, Fusion21's work to support developers and contractors linking social value to development resulted in over 300 jobs for local people and 16 new apprenticeship opportunities.  A further 30 young people benefited from work experience placements with a focus on inspiring the next generation to consider careers in construction. This generated almost £7 million in social return on investment.
The procurement and social value specialist is also working with a number of major house builders to monitor and support delivery of social value including Taylor Wimpey, Bellway, Equans, Redrow, Gleeson Homes, and Vistry.
Sarah Maguire, Head of Social Value at Fusion21, said, "Our partnership with Newlands Developments is reshaping how we approach social value on a large scale. Our expertise in social value linked to planning and new development is a real USP and Newlands is a developer who is keen to really give back to the local community.

"Together, we're rewriting the rules of development to ensure we deliver lasting change for local people and businesses.

"Having a social value strategy embedded at the planning application stage is something we're seeing more and more local authorities requesting. Our ambition is to become the social enterprise of choice for forward-thinking developers who want to embrace a transformative approach."