Forterra to hold UK's only all-female bricklaying competition for second year running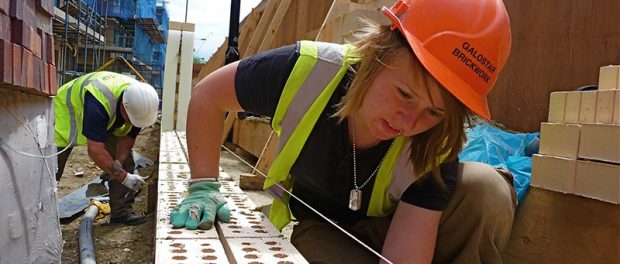 Leading building products manufacturer Forterra is preparing to hold its second-ever Bricklaying Forterra Females (BFF) competition on Friday 3rd April at Lewisham College, following last year's successful launch of the female-only construction contest.
BFF is a groundbreaking national competition which aims to find the best female apprentice and student bricklayers across the country, whilst encouraging more girls and women to consider careers in bricklaying or construction. According to WISE, the campaign for gender balance in science, technology, engineering and mathematics (STEM), women represented just 8% of skilled tradespeople in 2018.
The Forterra-run competition is open to all female Level 1 or 2 bricklaying students currently studying at colleges in England, Scotland, Wales or Northern Ireland, with 10 places available. Contestants will compete for six hours to build a competition piece designed and judged by experts.
Supported by the Brick Development Association (BDA) and the Association of Brickwork Contractors (AofBC), the competition will also feature Forterra's iconic London Bricks, which will be donated to Lewisham College for use during the competition.
Stephen Harrison, Chief Executive of Forterra, said:
"As a leading manufacturer of building products, we want to do our bit in attracting new recruits to the construction industry.
"Construction has always traditionally been seen as male-dominated, but there are increasing numbers of women working across the sector, and by organising this competition we hope more women will be inspired to explore the opportunities it has to offer."
BFF 2019 was won by 17-year-old Naomi Hamilton of Brooklands College. Charlotte Springer, 18, also of Brooklands College, took second place, while 23-year-old Tangina "Tango" Choudhury of Barnfield College in Luton earned third place. Tiffany Atkinson, 17, who studies at Havering College, received Highly Commended for her competition piece.
Naomi said:
"It was great fun taking part in BFF. I felt pretty tired after travelling to the college, but it was brilliant to see the other girls getting stuck in too."
Charlotte added:
"I've always loved hands-on work, and there's such satisfaction in standing back at the end of a day's work and looking at what you've made. My mum and uncle are both handy and brilliant at DIY, and they've been my main motivation and support. I help my uncle on jobs sometimes and his colleagues are full of encouragement for me too."
Kerri Chambers, a former student bricklayer who is now an Assistant Quantity Surveyor for a London construction firm, said:
"The industry is always looking for more people to join up, and these days there are more options for women who want to get involved and build a career in the sector.
"It's great that a company like Forterra is helping to raise the profile of women in bricklaying by organising the BFF competition. I began my career as a bricklayer when I was 19, and ten years on I've managed to progress in the industry. I put my success down to having a background in the trades; it's hard work, but it can lead to a satisfying and rewarding career."
Anyone who would like to apply for a place on the competition is encouraged to complete the online application form via the competition webpage: www.forterra.co.uk/bff. Spaces will be filled on a first come, first served basis, and the deadline for applications is Monday 23rd March.
For more information about Forterra, please visit www.forterra.co.uk. You can also follow the company on Facebook, LinkedIn, Twitter and Instagram via @ForterraUK, or subscribe to the Forterra YouTube channel.