FORE's Berlin residential project receives sustainability gold award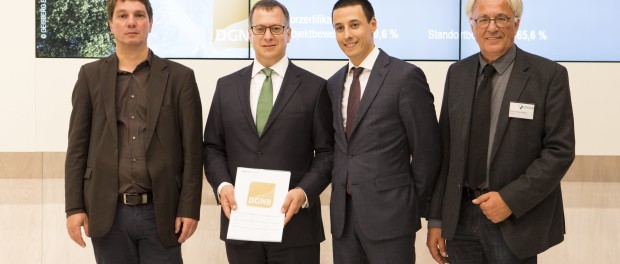 FORE Partnership, the pan-European real estate investment club for family offices and private investors, has received a "gold" pre-certification award from the German Sustainable Building Council (DGNB) for its Geisberg Berlin residential development.
It is the first time in Germany that a single-building residential development has been awarded a "gold" by the DGNB. In an effort to promote sustainable building, the DGNB has developed a certification system to identify and to distinguish particularly environmentally-friendly, economically-efficient buildings that conserve resources and have been optimised in terms of user comfort.
DGNB President, Professor Alexander Rudolphi, presented the certificate yesterday to Basil Demeroutis, Managing Partner of FORE, and to Marc Kimmich, Managing Partner of COPRO Projektentwicklung, FORE's development partner, at the Expo Real conference in Munich.
Geisberg Berlin is located at the listed former Post and Telegraph office in Geisbergstrasse in Berlin-Schöneberg. It will provide 129 apartments, five office and residential lofts and two commercial units, designed by architect, Ortner & Ortner Baukunst.
Geisberg Berlin has set new standards for sustainable development. On the one hand, this means conserving resources when it comes to energy, water and refuse. On the other, it means setting new standards in terms of construction materials, air quality, the design of open spaces and accessibility.
Basil Demeroutis said: "We don't merely see property in terms of its commercial value, we take a holistic approach with a broad focus on creative design, the local community, and ultimately lowering operating costs. In addition to its pioneering sustainable construction, Geisberg Berlin is a place for a healthy, cultured and respectful life in harmony with the local architecture, the environment and Berlin as a whole".
"We place great importance in setting sustainable standards and creating sustainable values. To this end, we are very pleased that the German Sustainable Building Council recognised this, by awarding Geisberg Berlin the gold pre-certification," said COPRO's Marc Kimmich.