Flat glass consumption on a meteoric rise in the 'green construction' industry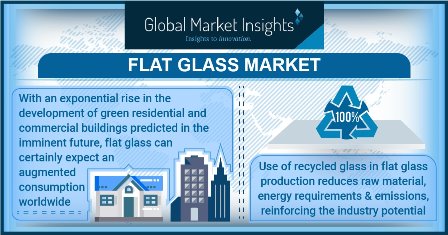 Owing to significant applications in the automotive and construction industries, flat glass has witnessed an extensive upsurge in demand in recent years, for advanced glass components and products needed for various purposes. Flat glass is undoubtedly one of the most preferred materials for the manufacture of a broad product range, from reliable automobile windscreens to windows for houses and buildings. The increasing array of end-user segments such as electronic appliances and healthcare equipment will gradually expand the scope of developing innovative offerings using the material.
Rapidly growing infrastructure development in emerging economies is slated to offer massive growth prospects for the consumption of flat glass, with developed countries already pushing the material beyond its common uses and into more critical areas like green buildings. Fueled by the fast-growing automotive and construction segments, the global flat glass market is projected to exceed $130 billion in annual revenues by 2024.
Essentially, key application areas that underscore the importance of using flat glass are safety products, heat insulation, solar and UV protection as well as soundproofing. Its deployment can be commonly found in commercial buildings and households, garages and numerous other places where the functionality of glass is required to improve the aesthetic value or performance of certain products, including home and car mirrors, glass furniture, partitions and cooking equipment.
The ability of this glass material to enhance the energy efficiency of buildings has gripped the attention of architects, designers and government agencies alike, as it can help them create impactful infrastructure components to achieve sustainability goals. Flat glass products for windows, doors and roofs are now being produced specifically for functions such as retaining the heat inside a room or preventing excess heat from entering. It ultimately results in lower energy consumption from heating, cooling and visibility applications. Adoption of modern digitized technology in production will significantly expand flat glass manufacturing capabilities worldwide.
Elucidating the importance of flat glass in the construction industry
Globally, the unparalleled energy-efficiency provided by flat glass is being explored for making a headway towards a low-carbon economy via green buildings. The most unique ability of glass is that it admits solar heat and natural light, making it ideal to cut down on electricity bills since artificial lights and air conditioners account for a large portion of energy consumption. In fact, recently it was suggested that flat glass manufacturing must be considered as an environmentally sustainable activity under specific European Commission guidelines.
Residential Applications
Glass has long been used in the interior as well as exterior of houses to serve visual as well as functional purposes. Due to the transparency of clear flat glass, around 90 percent of the sunlight can be transmitted into rooms through the doors or windows. In some cases, tinted or coated glass can be utilized to allow lesser amount of heat and light to enter inside, depending on what the home owner desires. Separately, flat glass is also increasingly being used for solar applications owing to its solar absorption properties.
Residential buildings being developed in different parts of the world are using more and more glazed glass windows to not only control the entry of heat but also reduce the use of artificial lights. Even in-house appliances like ovens, heating systems and refrigerators are now covered with flat glass, along with display switches and few innovative touch systems. Undeniably, as residential construction accelerates worldwide, driven by a surge in purchasing power and rising population, there will be immense consumption of flat glass over the next few years.
Commercial Buildings
In addition to North America and Europe, most countries in the Asia-Pacific have also witnessed the emergence of vast commercial parks comprising modern office buildings. The tremendous growth in trade and investments over the past two decades have fostered the development of larger office spaces, and with it, the need for a cost-effective approach to construction. Using glass on the exterior brings in a lot of natural light, helping to put a leash on power consumption. Colder regions have benefited from the ability of specialized, high performance flat glass to keep thermal and solar heat within the building, trimming down air conditioner costs. Innovations like self-cleaning glass and UV filter glass have further enhanced the product adoption.
Apparently, through a combination of various coatings and double or triple glazing, a significantly larger advantage can be taken of the solar control or insulating properties of the material. The low-emissive coatings can help store warmth inside a building in winters, while solar control coatings restrict heat from the sun entering inside. Since majority of energy expenses in commercial buildings can be attributed to heating and cooling functions, suitable flat glass products have become an indispensable component of today's office structures and green buildings. Reports indicate that buildings are responsible for nearly two-thirds of Europe's electricity consumption, suggesting enormous prospects for flat glass demand to meet zero-emission targets.
Deployment at Airports
All over the world, airports consist of huge laminated glass exteriors to enhance the aesthetics of the structure, though they are also able to increase safety for travelers inside. Due to the sheer size of airports, controlling the absorption or outflow of thermal heat can save a large amount of money annually for the facility. Flat glass can also be sound proofed through special glazing method and is vital in protecting passengers against incredibly loud noise of aircrafts.
Particular glass products are deployed for skylights at airports where solar protection is essential, while insulating glass for the facades are able to offer the optimum required transmission of natural light inside the airport's gigantic interior. Effectively, the material allows airports to lower energy usage, offer more comfortable and safe inner space, cut down carbon emissions, ultimately turning them into more eco-friendly establishments.
With an exponential rise in the development of green residential and commercial buildings predicted in the imminent future, flat glass can certainly expect an augmented consumption worldwide. Besides, it must be noted that the glass is considered to be 100% recyclable. The use of recycled glass in flat glass production reduces raw material, energy requirements and emissions to a large extent, further reinforcing the industry potential.
Shikha Sinha is an active contributor on digital media outlets where she majorly reports, deciphers, and analyzes the impact of the technology realm on today's businesses. Her portfolio of media channels as a contributor includes Page125.org, Algosonline, Thecampingcanuck, etc. Besides writing for these portals, Shikha also manages the editorial board at a couple of online media channels including L2Food and Packing Materials. As her first stint in writing, Shikha contributed on Yahoo Voices, where she penned down poems and customized pieces. She holds a Bachelor of Technology degree in Electrical and Electronics Engineering.