Environmental Training that doesn't cost the Earth. Astutis announce the launch of the IEMA Pathways to Net Zero Training Course.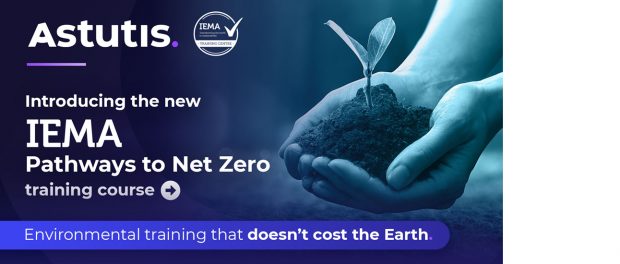 Astutis are delighted to be the inaugural partner for the launch of the IEMA Pathways to Net Zero Training course.
The climate crisis is an urgent issue for everyone. The UK government has set an ambitious target to reach net zero by 2050 and all businesses of all sizes across the globe need to play a part if we are to reach those goals.
In response, this course is designed to provide clear and practical guidance on the best practice in combating climate change. It is the first available health, safety and environmental course, that provides a complete decarbonisation plan engineered to steer individuals and businesses alike in the right ecological direction.
What's covered in the course?
The IEMA Pathways to Net Zero course is spread across eight modules which are:
Why Net Zero?
Responding to Net Zero
Greenhouse Gas Accounting
Carbon Neutrality
Net Zero Methodologies
Developing a Decarbonisation Plan
Net Zero Across the Value Chain
Communicating Net Zero
Course dates
Due to demand, Astutis are delivering Virtual Training Courses every month for the next 12-months.
Book your seat on one of the next available course dates:
View the course now for more information.
www.astutis.com t: 0345 241 3695 e: enquiries@astutis.com