Ensure the highest fire safety standards on your projects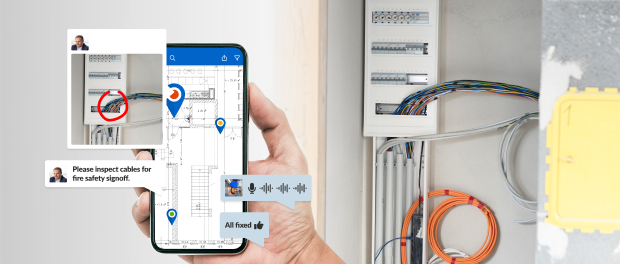 Are you 'Golden Thread' ready? 
The latest governmental buildings safety regulatory changes coming into effect this year aim to increase fire safety for everyone. There is now a greater emphasis on the duties of the Responsible Person (RP) with the risk of potential prosecution and heavy fines for those who have previously been negligent, particularly for safety checks around fire doors. This week's new regulation enforces quarterly fire door checks.
To comply with the requirements of creating a 'Golden Thread', businesses now need to be solutions-driven to make them more efficient, and to eliminate human error throughout fire safety assessments. The traditional paper records will be obsolete, and digital solutions will be essential to streamline data capture.
PlanRadar's digital platform can instantly capture and record evidence of fire stopping elements, compartmentation and fire risks. Details of completed work and fire assessments can be exported in seconds for peer review and sign-off.  With the RP having a greater workload, PlanRadar can save up to 7 hours per week and ensure full compliance.
Check out how PlanRadar supports Fire Consultancy Specialists:
PlanRadar works with leaders in the fire safety industry to digitalise their daily work. This includes making fire risk assessments, compartmentation surveys and fire door inspections, more efficient to reduce risk in the most cost-effective way.
What is the Golden Thread?
The Golden Thread is a term much debated since the passing of the Building Safety Act. It is effectively shorthand for an accurate, up-to-date record of building data, detailing how the building was designed, built and maintained. PlanRadar clients are using the digital platform to capture all data for each of their buildings or projects. Using new technology features for QR codes and NFC tags, our clients can simply scan a QR code or NFC tag on site on a fire stopping element within the building and can instantly view all data on each fire stopping element, so we can offer our clients a single source of truth from the cradle to the grave.
PlanRadar works with leading fire engineers and fire safety experts (Global HSE, Arup, IFC Kiwa) to build specific forms to capture info for structural comments, fire stopping, fire doors, certification, EWS1 forms, compartmentation, etc.
Learn more about how Global HSE use PlanRadar to help create the Golden Thread

How PlanRadar's Fire Safety Software benefits you:
Pins on Plans
Pinpoint any discovered risks directly on digital plans and BIM models
Upload multiple IFC models and collaborate on BIM models with automatic versioning from any location
Log all issues and recommended actions for fire prevention, passive fire protection and maintenance elements, including facades, communicating with your in-app chat
Ensure accountability with everything tracked in a simple tamper-proof audit trail connected to the pin.

Photo & video documentation on-the-go
Use your smartphone or tablet to record and capture essential evidence on-site and communicate with your team in real-time using photos, videos and audio recordings
Include all relevant evidence in client-ready reports in the format of your choice at the click of a button
Real-time synchronisation with your team to access findings quickly and take action as soon as possible

Fully flexible reports
Collect and report information the way you need for full compliance & FRA validation
From regular fire risk assessments, fire safety checklists, EWS1 forms, compartmentation and more, build custom versions in PlanRadar and have your team complete them in the field, saving time and increasing efficiency
Easy to use for your team to securely build and store custom reports/checklists  or export to PDF in less than 20 seconds. Ability to retrieve essential evidence at any time
Identify issues and opportunities early with easy-view dashboards bringing your data life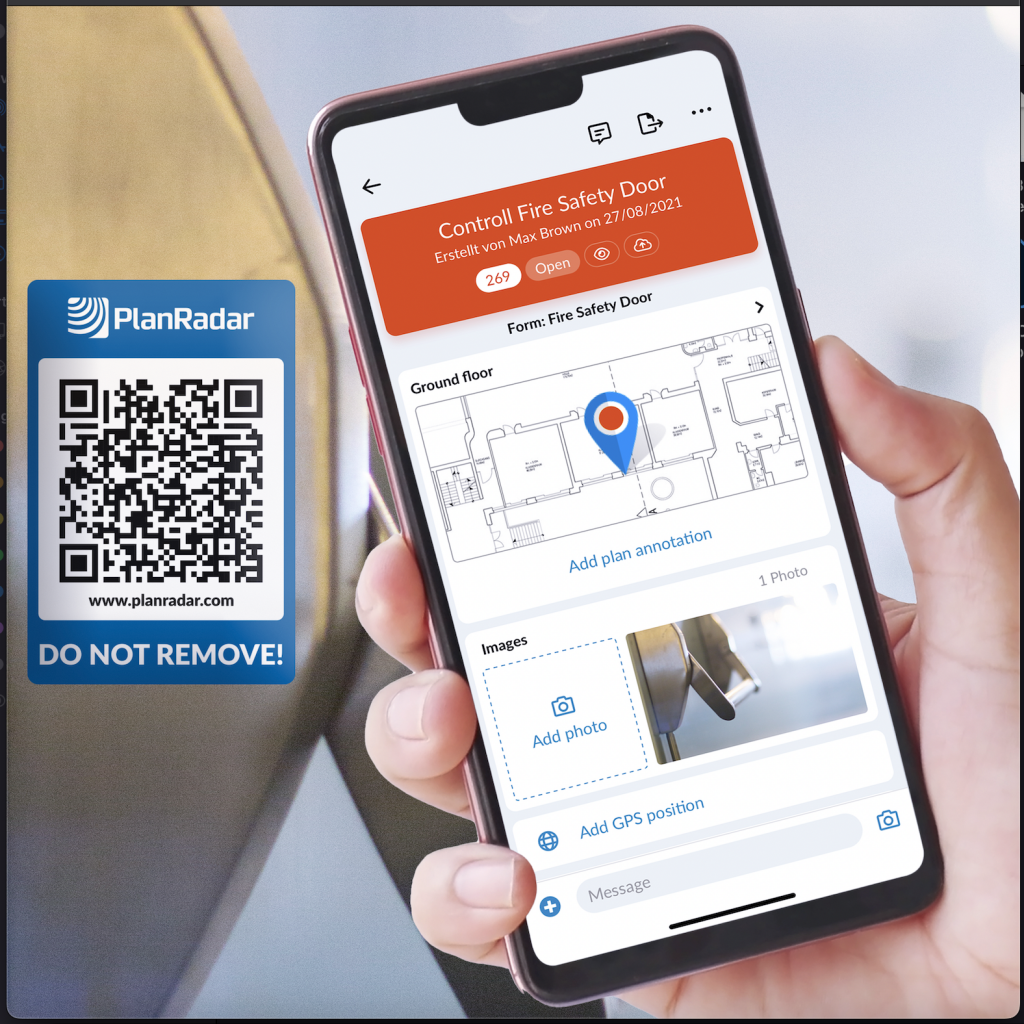 QR codes & NFC tags
Place QR codes or NFC tags on all relevant fire safety elements around your site to track location-specific issues or assets. When scanned, the live fire documentation for each element will appear in seconds, providing a tamper-proof and transparent audit trail
Fast and simple to reference specific details on-site or during maintenance checks
Futureproof your buildings with product traceability
To learn more about PlanRadar and how our digital platform can support your projects, register for a free test account:
PlanRadar is an award-winning digital platform driving time and cost savings across construction teams by digitising task management, documentation, and communication. Today, PlanRadar serves more than 120,000 users across 65 + countries.