ENGEL WORKWEAR'S SUSTAINABLE & STRETCH-COMFORT COLLECTIONS HELP SAVE THE ENVIRONMENT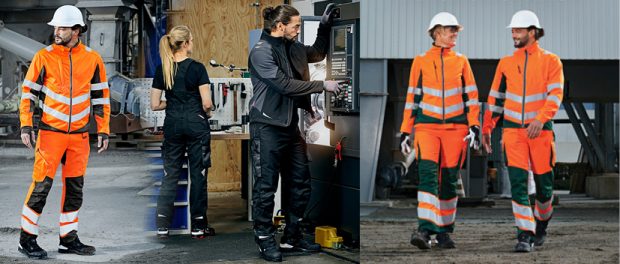 Alongside a continual policy of developing products to keep ahead of the highest comfort and protection standards demanded by their customers, Danish manufacturer, ENGEL Workwear also focus on making a positive contribution to aiding the Global climate challenge.
With comfortable and functional clothing designed for almost every work situation and a wide choice of sizes for both men and women, the company's 'Safety Super-Stretch' High Visibility range incorporates 50% of regenerated polyester REPREVE® eco-fibres which are spun from recycled plastic bottles. Combined with Engel's FE Super Stretch fabric, the fibres are woven together into a polyester and cotton mix; the resulting flexibility of this sustainable, hard wearing but light-weight fabric allows the wearer to be clearly seen in daylight or at night and to be able to work unrestricted even in the most confined spaces.
By the use of regenerated polyester in the manufacture, the Environment benefits from significant consumption savings on energy, water and greenhouse gas emissions. Verified numbers of recycled plastic bottles used to produce the fibres are typically 19 for a pair of trousers, 20 for a work jacket and 37 for a boiler suit; the range is available in a choice of 8 different colour combinations.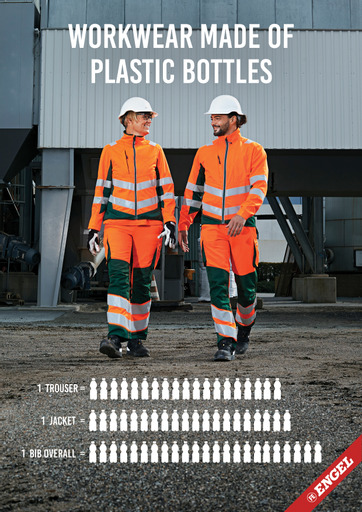 Continuing its support of the Green Environment, Engel Workwear includes the versatile 'Galaxy' range amongst its collections which now combine a mix of 65% sustainable REPREVE® regenerated polyester fibres with 35% cotton. Giving strong protection, with the emphasis on style and fit, the range includes slim-cut, functional trousers and jackets available in a choice of two-tone colour combinations plus soft-shell and winter jackets, a comfortable fleece cardigan, bib-overall and boiler suit. Most items incorporate many practical details such as several spacious pockets giving quick and easy access to tools and personal accessories, concealed buttons and zippers; the jackets have adjustable cuffs and are reinforced with CORDURA. There is also a wide choice of Galaxy sustainable workwear specifically designed to be practical, comfortable and stylish for women.
For more details contact Gareth Bladen at gbl@f-engel.com
Telephone +44 (0) 7759 520034 or visit www.engel.eu/en