Eight Raimondi flat-top tower cranes deployed in Sharjah, UAE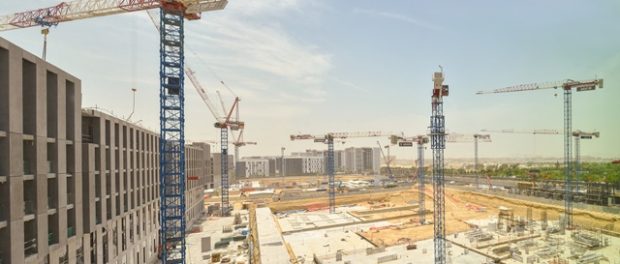 Raimondi Middle East deployed eight flat-tops for the fast-growing Aljada megaproject, developed by Arada, in Sharjah, United Arab Emirates.
The machines, erected in April 2023 with the support of the Raimondi Middle East operations team, are participating at the construction of the Sokoon apartment blocks. The jobsite consists of five residential buildings, featuring 482 homes plus commercial space in the Naseej District, Aljada's cultural neighbourhood.
The four Raimondi MRT111s, one MRT159, and three MRT294s bring the total number of Raimondi machines working on the development to 22.
Onsite for an additional 14 to 16 months approximately, the models were chosen for their technical specifications, as well as the contractor's requirements and the tight development delivery schedule.
"We opted for cranes with a maximum lifting capacity ranging between 8tn to 14tn, and a maximum lifting speed of 136 m/min," explained Wael Hasan, Commercial Director, Raimondi Middle East. The larger number of cranes needing installation, paired with the congested nature of the site, required careful evaluation of the site planning and crane positions to avoid overlap, noted Hasan.
The four MRT111s-8tn are all currently working with a jib length of 36m and final heights of 60m and 48m. Boasting versatility in terms of tower height and good performance with respect of load and hoist speeds, the cranes are equipped with a 30kW hoist and drum capacity of 450m, lifting at a maximum speed of 100m/min.
Building on its best-in-category load diagram and on its ease of installation, the MRT159- 8tn has been erected with a jib length of 44m and a 45kW hoist power, allowing the flat-top to lift at a maximum speed of 136m/min with a final height 66 m.
With the same maximum lifting speed of the Raimondi MRT159, the three MRT294s are onsite with a hoisting gear of 73.5kW, a maximum lifting capacity of 14tn and final heights of 54m and 60m. Erected with jib lengths of 36m and 60m, these cranes ensure excellent performances and durability in a variety of climates.
"The Raimondi Middle East operations team will continue supporting the construction of Sokoon buildings by performing monthly maintenance checks, as well as the full cranes climbing procedures as required based on jobsite progression," Hasan concluded.


Raimondi Middle East is concurrently actively engaged with several key residential developments across the UAE.