EDG DESIGN UNVEILS THEIR LATEST LIFESTYLE HOSPITALITY DESTINATION: THE PULLMAN SINGAPORE ORCHARD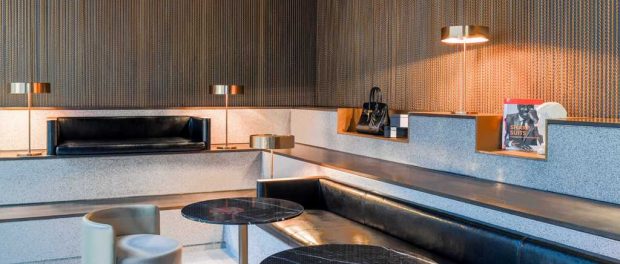 Award-winning strategy, branding and interior design firm EDG
Design has launched its latest hospitality project for the newly opened Pullman Singapore
Orchard. An ambitious undertaking from day one, the entire project from initial concept
through construction and opening took less than 18 months end-to-end, which included fully
re-zoning the majority of the public spaces left over from the previous Grand Park Orchard
hotel.
Drawing inspiration from Orchard Road's iconic fashion houses, EDG's design narrative
celebrates the retail iconography and attitude that make this boulevard so famous. Functional
spaces within the hotel are inspired by, and even named after, rooms of a prototypical luxury
fashion label such as the Atelier Lounge and The Archive Club. With each space taking on
branding and design cues from retail processes and fashion boutiques, the Pullman Hotel
imbues a distinct sense of place and style within Singapore's multi-cultural and fashion-forward
industry, interwoven with a strong narrative and rich storytelling.
"Our aim from the beginning was to create a dynamic, lifestyle driven destination," says EDG
partner and managing director Robert Shen, continuing "In working with the Accor team and a
very supportive client in Bright Ruby, we've been able to achieve a remarkable turnaround for
this very challenging building in record time."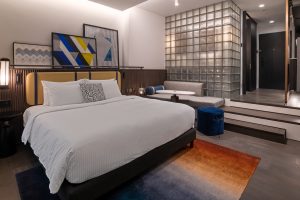 Arrival and Reception
Conceived as a prominent retail shopfront, the arrival of the Pullman entices guests to traverse
up the grand stairs into an intimate reception hall. A curved communal table sits in the middle
of the room with self-check-in pods illuminated by rectangular light rods suspended from
above.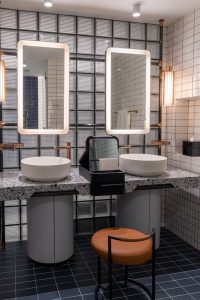 Credit: Omar Montenegro
Stadium style bleacher steps allow guests to choose from a variety of seating locations on
timber steps or inset leather banquettes, adorned with custom art and accessories. A blue and
bronze metal chain curtain wraps the entire periphery of the walls and ceiling, backlit with a
custom lighting effect that creates a rhythmic flow across the room from day to night.
Atelier Lounge
The hotel's lounge area is located on the 4th floor, conceptualized as a seamless, multi-function
space that houses interlinked lounge, bar and meeting salons. Adopting the Pullman brand's
"Porter" concept (also created by EDG's branding and design team), the Porter lounge
combines a lounge area, casual workspace, meeting facilities, a private dining room and
full-service bar that can flex up and down depending on the time of day, but also be converted
into varying activity areas to foster an energetic and communal vibe to the public space.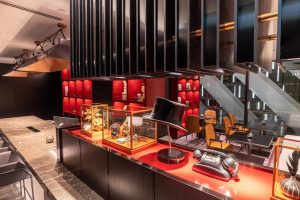 Credit: Omar Montenegro
"We strategically placed the central bar as the nucleus on the 4
th floor," says EDG principal and
senior creative director Piya Thamchariyawat, adding "which serves the Atelier Lounge and
meeting rooms, the three-meal restaurant and the pool deck from one point of control,
maximizing operational efficiency for the hotel."
Eden Restaurant and Pool
The Pullman's specialty all-day restaurant, Eden, is located within a new glasshouse structure
specifically designed to house the restaurant overlooking Orchard Road below. Inspired by
classical European wintergardens, the restaurant is filled with natural light and lush greenery
throughout.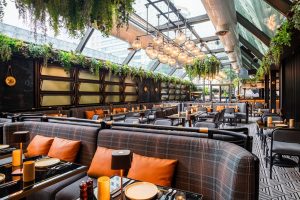 Credit: Omar Montenegro
A long buffet line and vertical chillers maximizes space constraints, while the design marries
localized black and white tile flooring and curved metal screens with wood-framed chalkboard
panels and hand-drawn textile motifs. This is the home of "the Maker," where the latest
fashions are assembled from sketch to model, where dishes are conceived and created.
Guests can also enjoy al fresco dining on the outdoor patio, accessorized with planters and a
mix of seating arrangements around a central tree. The pool deck sits adjacent, conceived as
an urban beach club with private cabanas and call buttons that say "Press for Champagne,"
giving the ultimate party vibe.
Residence Guestrooms and The Archive Club
As part of the re-zoning of the hotel, what was formerly the café and bar in the old hotel was
transformed into a bank of Executive Level guestrooms with access to the Club Lounge, called
The Archive Club.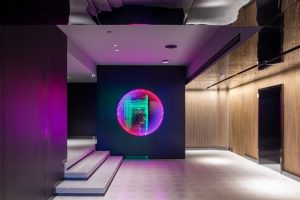 Credit: Omar Montenegro
A dark and moody corridor wrapped with dark blue carpet and custom wallcovering gives a
sense of intrigue as you approach the guestroom. Upon entering, the new Club Rooms are
designed with a modern, split-level layout that blends fashion trends with avant-garde artwork
in an upscale residential setting. An elevated open wardrobe and airy bathroom is framed with
ribbed glass blocks to allow natural light to penetrate into the vanity from the room's
floor-to-ceiling windows. An inset sofa and coffee/work table are strategically placed to focus
on relaxation or work, with some rooms having direct patio access. The room's fixtures were all
custom designed by EDG's team, mimicking the retail displays seen in Orchard's gleaming
shops. Additionally, bespoke artwork was specifically curated for the rooms and placed behind
the bedhead on an art rail to augment the luxury residential feel.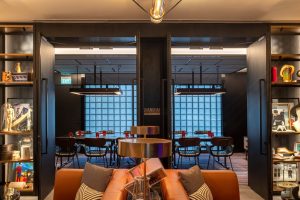 Credit: Omar Montenegro
The Archive Club is the hotel's executive lounge, designed as the archival space where
award-winning couture outfits and sketches were stored for safekeeping. Red lacquer
bookshelves with curated objets d'art fill the space, while plush seating and open pantry invite
guests to partake of snacks and drinks throughout the day. A section of the lounge can be
closed off for semi-privacy, and soundproofed phone booths were created to allow guests to
take calls or online meetings without leaving the lounge.
The Pullman Singapore Orchard redefines the lifestyle hotel market with a modern,
fashion-oriented concept that provides an immersive guest experience at every turn.
***
About EDG Design
EDG Design is a global design, branding, and strategic studio for the hospitality and F&B
industries. Based in San Francisco (Novato), Dallas, and Singapore, they have more than 35
years of experience in guiding hotels and restaurants to success. With a collaborative team of
architects, designers, and brand strategists, EDG has managed projects for a diverse client
portfolio locally and internationally, ranging from luxury operators including Four Seasons,
Ritz-Carlton, Raffles, and InterContinental; to lifestyle brands such as Andaz, Alila, Montage,
Pullman, and Autograph.
Distinguished in their design vision and approach, EDG offers services such as market study
and positioning, F&B concept development, and F&B branding and development. Their keen
understanding of business issues and insights into market trends places them at the forefront of
an industry that is ever-changing.
For more information, visit https://edgdesign.com/
For more information and/or images, please contact:
Vanessa Simon
Senior PR Manager
vanessa.s@cocopragency.com
Brigitte Yeo
Senior PR Executive
brigitte@cocopragency.com