Dyer & Butler completes major platform extension works to enable £150M Gatwick Airport station renovation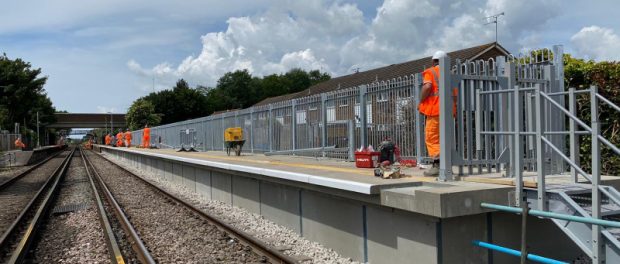 Dyer & Butler, a multi-disciplined engineering services specialist focused on essential infrastructure including airports, railways and highways, and part of M Group Services, has completed major platform extension works at three stations on behalf of Network Rail as part of the £150m Gatwick Airport station renovation.
Dyer & Butler engineers worked under strict social distancing controls to extend the platforms at Cooksbridge, Lancing and Goring-by-Sea. The new platforms will improve accessibility and reduce overcrowding for commuters and leisure travellers across the South East. The investment will also ensure that longer trains can be accommodated and avoid blocking level crossings.
To provide greater capacity for passengers, Govia Thameslink Railway (GTR), the train company that operates Southern services, will increase the length of some trains operating along coastal routes to Eastbourne, Hastings, Worthing and Littlehampton, to eight carriages.
Paul Harwood, regional investment director for Network Rail, said: "These works support the vital Gatwick Airport station upgrade and the platform extensions will ensure we continue to provide a railway, which meets the needs of the communities and economies we serve in years to come.
"We look forward to passengers reaping the benefits of more spacious, more frequent and longer trains which will provide more people with opportunities to travel."
Chris Darlow, Rail Director at Dyer & Butler, commented: "We are delighted to have successfully completed this platform extension programme on behalf of Network Rail. The increased platform capacity and the introduction of the longer trains will greatly transform the experience of passengers and likewise progress the service of the railway to ensure that journeys are safe and comfortable for all."